Carl Taylor | August 23rd, 2018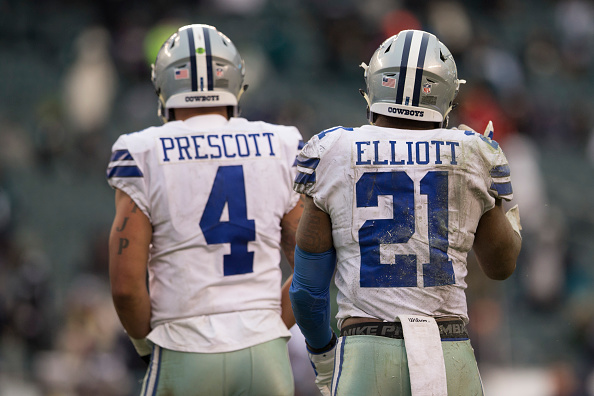 The Cowboys dealt with injuries to starting linebacker Sean Lee, a 6-game suspension to starting RB Ezekiel Elliot, and a 4-game suspension to DT/DE David Irving. With so much that happened last season, they will look to put 2017 behind them and move forward to get this team over the hump this upcoming season.
Dallas Cowboys Season Preview
Recap Of Last Season
The Dallas Cowboys are coming off a disappointing 9-7 season. To some, they were supposed to be a serious threat to compete for a Super Bowl after a surprising 13-3 season back in 2016.
In 2017 the Cowboys had a few things to hang their hats on, for a team that had to play 6 games without their starting RB, the Cowboys finished 2nd in rushing averaging 135.6 yds a game as a team, Even without Ezekiel Elliott, they were a productive unit running the football while using a RB by committee approach.
On the defensive side of the ball as it's called "The Bend But Don't Break" defense found themselves as one of the best units on the team led by 14.5 sack defensive end Demarcus Lawrence. This group finished 8th in total defense and 8th against the run while also losing starting pro bowl linebacker Sean Lee for 5 games.
Strengths This Year
The Cowboys offensive line will be led by 3 All pro/pro bowl lineman in Zack Martin, Travis Frederick and Tyron Smith to a unit that's considered one of the best in the NFL. La'el Collins will look to continue to assert himself as a solid right tackle for a 2nd straight season after making the switch from right guard. One of this team's weaknesses was at the LG position which they are hopeful will be one of the top strengths as they drafted 6"5 311 lb G Connor Williams from the University of Texas
Having arguably one of the top RBs in the NFL, Ezekiel Elliott will be looking to bounce back from a season in which he had to face a 6-game suspension while facing distraction week after week to clear his name from domestic violence allegations. Elliott is entering his 3rd season and is just one season removed from being the league's leading rusher while rushing for 1,631 yards and averaging 5.1 yards a carry along with 16 TDs
The Cowboys are hopeful they have their next franchise QB in Dak Prescott who is entering his 3rd season with a record of 22-10 as a starter, In 2017 Dak Prescott finished the season with a QBR rating of 66.7 putting him 4th behind QBs Carson Wentz, Case Keenum, and Tom Brady.
Weaknesses This Year
This offseason the Cowboys released 8-year wideout Dez Bryant and will enter 2018 with questions at the WR position. The Cowboys will use a WR by committee approach but There will for sure be questions as to who can step up at the WR position and at least solidify themselves as a for sure #1 option
Longtime Cowboys TE Jason Witten retired this offseason as the Cowboys will look to replace as much production as they can while having so much inexperience at the position. The four current TEs on the Cowboys roster have a combined nine NFL starts.
Additions/Improvements
The Cowboys signed former Jacksonville Jaguars WR Allen Hurns in hopes to try and replace the production of Dez Bryant. Allen Hurns will look to get back to his 2015 form when he had 1,064 yards receiving along with 10 TDS. The past two seasons he hasn't been able to stay healthy missing a total of 11 games.
The Cowboys also signed former Rams WR Tavon Austin as they will look for him to give the offense a spark in the passing game and even in the running game. The Cowboys had issues with WRs separating and getting into open space and they will look for the former 1st rd pick to do just that. Austin is known around the league as an electrifying speed WR and will get a fresh start to be just that in Dallas as it's been reported he had been dealing with injuries last year In LA. Look for Tavon Austin to be a big part of this offense and keep the chains moving as he has been one of the top players so far in training camp this offseason
Subtractions/Regressions
The loss of Dez Bryant could have the most impact on this upcoming season as his production and being a vocal leader will need to be replaced. Dez Bryant was an 8-year vet who finished his career in Dallas with 7,549 Receiving  yards and 73 TDs putting him as the Cowboys all-time leader in TD receptions passing Bob Hayes
Longtime Cowboy TE Jason Witten retired after a 15-year career as Cowboys tight end. Witten was one of the Cowboy greats and probably will go down as one of the best tight ends in NFL history. Jason Witten retired as 4th all-time in NFL history for receptions with 1,152 putting him behind Jerry Rice, Tony Gonzalez and Larry Fitzgerald.
Prediction
Barring injuries the Cowboys should be a solid team in 2018 with the return of Ezekiel Elliott for a full 16 game season and 3rd year QB Dak Prescott. The last time these two both played a full season they won 13 games. The Cowboys have been there own worst enemies over the years and will look to get over the hump this upcoming season, as this team is very capable of being a legit contender. With all they went through last season they still finished the season over .500. With a defense I think that can be even better this year, a solid offensive line along with Ezekiel Elliott and Dak Prescott, even with questions at the WR position I think this team will be an 11-5 team. Last season they let at least two wins vs the Green Bay Packers and LA Rams get away from them during crunch time. Correcting their own simple mistakes those two games alone would've put them right at an 11-5 mark in 2017 and a playoff berth. I'm expecting a pretty good season from this Cowboys team as they look to put 2017 behind them and move forward in 2018 and Finish The Fight.
Questions and comments?
thescorecrowsports@gmail.com
Follow Us on Twitter @thescorecrow
Follow Us on Reddit at u/TheScorecrow
Follow Carl Taylor on Twitter @DakPresg0dV2
Main Credit Image: Embed from Getty Images