Frank Dyevoich | August 23rd, 2018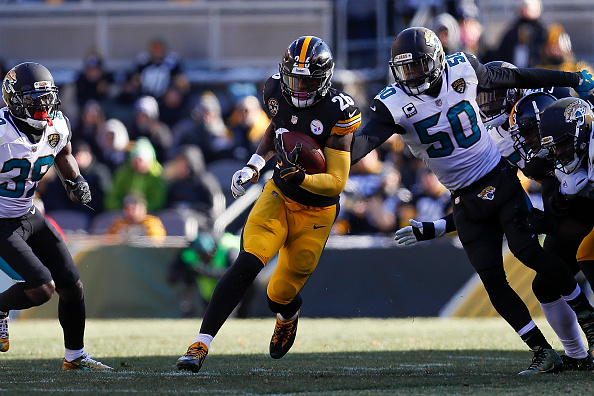 The running back position once again reigns supreme in fantasy football. There seemed to be a trend leaning toward wide receiver dominance given the consistency of the guys at the top, but the elite play of the NFL's best running backs over the past few seasons quickly put a stop to that. When preparing for your draft, you want to separate your running backs into tiers so you can find the best values without sacrificing production. Here is the final installment of Blood, Sweat, and Tiers. The first article on the rookies is here. The second on my likes and dislikes is here. Tier 4 is here. Tier 3 is here. Tier 2 is here.
When it comes to drafting running backs in 2018, you want to draft them early and often, and you want the running backs on high scoring offenses. The drop off in production after the 7th round is significant so do not ignore them early. After approximately 50 mock drafts thus far, the teams where I take an RB in the first round are my favorite teams. So pay attention to your tiers and strike before the pool of talent is gone. Ideally, I want to draft 3 running backs in the first 5 rounds, and no matter where I am in the 1st round, I am likely taking an RB. That is of course unless I'm at the end and one of the RBs in my 3rd tier will make it back to me in round 2, and there is still a tier 1 WR on the board. This is a prime example of the benefit of tier-based drafting.
Tier 1
Le'Veon Bell (PIT) – Over his last 4 years, Bell has never finished below 3rd in PPR when he has played at least 12 games. He also has an astounding career average of 21.7 fantasy points per game (PPG). Comparing him to other elite running backs over their dominant years, his PPG average is better than Todd Gurley (18.2), Ezekiel Elliott (21.2) and Adrian Peterson (21.2), and only trails Ladanian Tomlinson (21.8). In 2014, the year of DeMarco Murray, Bell finished #1 in PPR in both total fantasy points and PPG. He only played 6 games in 2015, but he still finished 4th in PPG. In 2016, the year of David Johnson, Bell outperformed DJ in every facet of the game except touchdowns. He was 1st in PPG with 26.5 to DJ's 25.7 and having only played 12 games he rushed for 29 more yards and had only 5 fewer receptions. In fact, if you extrapolate Bell's 2016 numbers over a 16 game span he would have had 448 touches, 2,512 yards from scrimmage (YFS) and averaged 157 YFS per game.
Last year, Bell finished with 406 touches, 1,946 YFS, and 11 TDs, averaging 4.0 yards per carry (YPC). He was 1st in carries (321), 2nd in carries per game behind Ezekiel Elliott with 21.4 and 1st in touches per game with 27.1. In order to score fantasy points, you have to have the ball, and no one touches the ball more than Le'Veon Bell. According to Playerprofiler.com, he was 1st in snap share for all RBs (91.7%), 1st in opportunity share (carries and touches)(89.3%), and 1st in red zone touches (73). Perhaps his most impressive stat is that he is 1st in yards after contact (YAC) over the last 2 seasons with 1,622. He is not the biggest back, but his elusive running style and patience to wait for the running lanes to open make him extremely difficult to tackle. The thing that sets Bell apart from the other running backs is his role in the passing game. He is a lock for 100+ targets and 80+ receptions if he plays 16 games. With another contract standoff coming, the Steelers are going to run their elite RB into the ground this year. Another 400 touch season is not out of the question and with Bell rarely seeing 8 men in the box (19.9% of the time), he will dominate the fantasy football arena once again.
Todd Gurley (LAR) – Most experts have Gurley #1 in their rankings, but for me, he is #2. No one was more consistent than Gurley, finishing in the top 10 in 12 of his 15 games (93.3%). He averaged 18.6 carries and 22.9 touches per game and in standard and PPR, he finished 1st in PPG with 21.6 and 25.8. He also finished 2nd in red zone touches (69) and tied for 1st in goal-line carries (15). After his first 3 TD game against the 49ers I was screaming for owners to sell high and I could not have been more wrong. Gurley single-handedly won fantasy championships by laying down the highest scoring fantasy playoffs of all time. He also accounted for 40% of the Rams total yards and TDs, easily 1st in the league. Though Gurley had a season for the ages, there are several reasons he is not the top back for me.
No RB has finished 1st in back to back seasons since Ladanian Tomlinson did it in 2006-2007 and Gurley's historical 2017 screams regression to the mean. In 2017, Gurley led the league in yards after the catch and scored 19 total TDs, 6 of which were through the air. Those numbers won't be repeated. Since 2000, an RB has scored 18 or more TDs 23 times (4% of the time assuming 32 RBs each year) and only 3 of them were able to repeat or surpass that the next year. That gives Gurley a .06% percent chance to be the 4th player to do so. Those are not good odds. Another thing to consider is that 33% of his fantasy production came in weeks 14-16. Though Gurley is not going to repeat as RB1, he is certainly in the elite tier for RBs and worthy of a top 3 pick. Sean McVay is an offensive genius and will consistently develop schemes to get Gurley the ball in space. The running game for LA should also be stronger due to the improvement of the Rams' defense.
Ezekiel Elliott (DAL) – Zeke is a monster plain and simple. In standard leagues, he is my #1 pick and I wouldn't have a problem if you took him #1 in PPR. Over the last 2 seasons, Zeke is averaging 4.6 YPC, 21.2 PPR PPG, 22.6 carries per game, 24.9 touches per game, 104.6 rush yards per game (YPG) and 130 YFS per game. Taking his averages and applying them to a 16 game season he would have 361 carries for 1,663 yards and 37 receptions for 417 yards, giving him 2,080 YFS. Throw in his 12 TDs and you have yourself a fantasy MVP candidate. Now I'm going to throw some stats at you that are downright shocking when you consider that he only played 10 games last season.
Since 2016, he is 2nd in the league in YAC with 1,618, only 4 yards behind Bell. Last year he was 7th in redzone touches with 40. He was 141 yards away from being a top 5 rusher and 2 TDs shy of being in the top 3. He was 1st in carries per game (24.2) and rush YPG (98.3) and 2nd in touches (26.8). His 16 game pace was 387 carries for 1,573 yards and 12 rushing TDs. His role in the passing game also increased in 2017, where he saw only 2 fewer targets and had 6 fewer receptions than he did in 15 games in 2016. Zeke was the entire offense in 2017, accounting for 33.2% of Dallas' total yards and TDs, which was the 2nd highest percentage behind Todd Gurley. In his 10 games, Zeke was 2nd in both snap share (88.8%) and opportunity share (88.1%) and due to Dallas' depleted WR core, they are going to need Zeke to catch passes more than ever. The only thing keeping me from making Zeke #2 is the lack of offensive weapons around him. Defenses are going to stack the box against him on almost every play, and his 8 yards on 9 carries against Denver last season still lingers in the back of my mind. Fortunately, Dallas has one of the best offensive lines in the league and in spite of everything stacked against him, it wouldn't shock me if Zeke finished #1 in both formats.
Questions and comments?
thescorecrowsports@gmail.com
Follow Us on Twitter @thescorecrow
Follow Us on Reddit at u/TheScorecrow
Follow Frank Dyevoich on Twitter @Fantasy_Giant
Main Credit Image: Embed from Getty Images