Beth Sullivan | August 22nd, 2018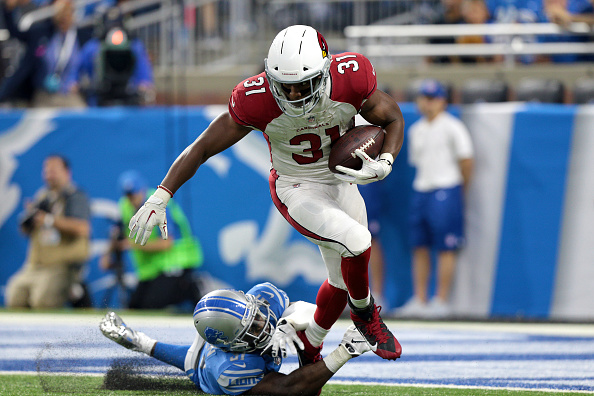 2017 was a bad year for injuries in the NFL. A number of notable players were sidelined for prolonged periods of time and hope to return to pre-injury form in 2018. Some have already made it into action during the preseason and others are still working their way back. Here is a look at some of the most notable names on the NFL injury report.
Allen Robinson started game 1 last season with the Jacksonville Jaguars before suffering a torn ACL in his left knee. He has changed teams, signing with the Chicago Bears in the offseason. He has participated in training camp and all signs point to him being ready to play on opening day this season. The question will be if he can regain his pre-injury form. He is almost exactly 1 year removed from his injury, so the question is whether his conditioning will be up to the task of a full NFL game immediately.
David Johnson looked good in limited work in the Cardinals preseason game against the Saints. He spent 2017 on IR after a dislocating his left wrist in the season-opening game.  He caught the ball with ease and showed no problem holding or catching the ball in his limited playing time this preseason. I suspect he will return to pre-injury form when he takes the field on opening day. He should see a higher workload in the next game and should be ready for the start of the 2018 season.
Teddy Bridgewater is currently sitting in a crowded Jets QB room along with a first round QB draft pick and a proven veteran. Whether he plays for the Jets this season or is traded to a QB needy team remains to be seen. He will play somewhere this season, and based on his production in the preseason he seems to have fully recovered from his gruesome knee injury 2 years ago. If he gets a starting QB position, he could be a good option in a multiple QB fantasy league.
OBJ has not seen the field in preseason action, but he has looked primed and ready to take up where he left off before his injury from what we have seen in individual drills and practice. If he gets some playing time in this week's preseason game, I would expect him to be ready to roll come opening day.
Carson Wentz is not quite 9 months removed from his knee injury at the end of last season. While he has been rehabbing extensively and has been cleared to participate in more intense activities in practice, I suspect that he will not be fully back from his injury until later in the season. ACL injuries, despite people saying they can come back in under a year, the reality is that it takes 12-15 months minimum to recover and regain muscle strength in the affected leg. Once that occurs, the player has to get into football shape and be able to handle the rigors of a full NFL game. It is for this reason, that many are disappointed when a player returns from this injury and is not the player they were before the injury. I would expect production to be down for him this year, but barring any setbacks would expect him to look more like his old self toward the end of this season or more likely next season.
Questions and comments?
thescorecrowsports@gmail.com
Follow Us on Twitter @thescorecrow
Follow Us on Reddit at u/TheScorecrow
Follow Beth Sullivan on Twitter @GAPeachPolymer
Main Credit Image: Embed from Getty Images