Richard Benites | August 21st, 2018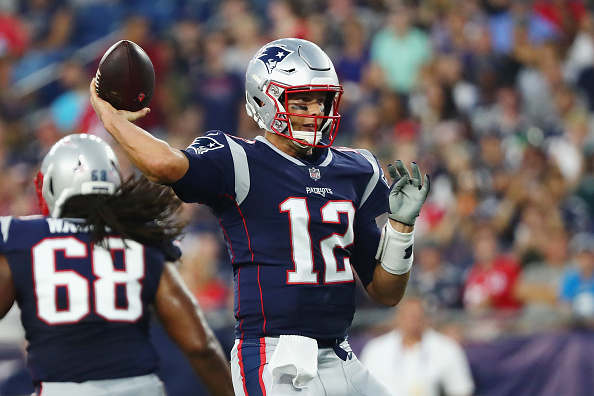 We are now passed the halfway mark of the preseason as Week 1 of the NFL is quickly approaching. These next couple of weeks will be vital for the depth and scheme of each team as they enter a new year of football.
New England Patriots Season Preview
Recap of Last Season
During the 2017-18 season, the Patriots put up a dominant campaign as they dropped only one match in the AFC East division. They'd ultimately go on and become the runner-ups in Super Bowl 52, but the offseason has been kind and it seems that New England is once again favorites to make another deep postseason appearance. To get the inside scoop on the goings-on in Foxboro, look no further as we introduce our 2018 NFL preview of the New England Patriots.
Strengths This Year
Right off the bat, the receiving corps will be easily the key facet of the Patriots' offense. Why? Well because it helps when Tom Brady is your quarterback, of course.
In 2017, New England finished with a total of 4,619 yards, placing them 1st overall as the league's receiving yards leader. This year, Brady will once again have the NFL's best tight end to throw to in Rob Gronkowski, as well as veteran wide receiver Chris Hogan. Oh, and his favorite target Julian Edelman will be back this season after tearing his ACL last year; however, his debut will be postponed until Week 5 after being issued a suspension for PEDs.
On the defensive side of the ball, the Patriots also improved drastically. More specifically, New England's defensive line made the leap to becoming a top-10 pass rushing unit after earning 42 total sacks; good enough to have them tied for 7th overall in the league. Not to mention that even if they didn't force a fumble along the way, they'd still leave you in a third-and-long as they finished No. 6 in yards lost on sacks with a total of 299.
The Patriots' final, and arguably most important, strength to behold would be none other than their head coach. Now entering his nineteenth year with the Patriots, Bill Belichick will look to bring New England fans back to the promised land. As a future first-ballot Hall of Famer, Belichick has helped the Patriots' organization to a whopping 5 Super Bowl victories while managing a 214-74 record (.743 W-L%).
Weaknesses This Year
Going off of the aforementioned paragraph on Belichick's accolades, one of his greatest talents is his ability to bring out the best in players. Particularly, how he turns bench players into household names.
However, New England's rushing game has long been missing that standout workhorse since their last one in 2013's Stevan Ridley. Instead, the Patriots have become synonymous with running back by committee. Although the unit still puts up a fair amount of production through their many rotations, each year the best of the bunch seems to go; e.g. LeGarrette Blount and Dion Lewis.
Another point of weakness that the Patriots will have to figure out if they have any hope of keeping Brady upright, would be their offensive line. After letting star tackle Nate Solder walk, he briefly became the highest paid O-line player and left a huge hole in the pass protection. To counter this, New England used their 1st-round pick to draft Isaiah Wynn. Unfortunately, a torn Achilles injury in Week 2 of the preseason will have Wynn sidelined for the rest of the year.
The Patriots' secondary can show flashes of elite coverage, but the cornerbacks might be in for a difficult year. Malcolm Butler, New England legend for his actions during Super Bowl 49, left for the Tennessee Titans this past offseason; leaving cornerback Stephon Gilmore to take his place. Although Gilmore is a quality talent in his own right, the cornerback depth isn't all too convincing beyond him.
Additions/Improvements
To further add onto this prolific pass rush, the Patriots traded a 2019 third-round pick to the Browns for their defensive tackle Danny Shelton and a 2018 fifth-round pick. Shelton is a wrecking ball down the middle and will surely apply pressure to the quarterback if opposing O-lines don't plan accordingly.
Pacey wide receiver Cordarrelle Patterson was also traded to the Patriots after the team swapped their fifth-round pick for a sixth from the Raiders. Patterson will bring speed to Brady's arsenal and is coming off a year where he averaged 10 yards per reception. The 27-year-old has been electric throughout the preseason and might start second, behind Hogan, at the wideout position.
Veteran cornerback Jason McCourty will join forces with his twin brother, Devin McCourty, in Foxboro as he helps bolster depth in the secondary. Last year with the Browns, Jason recorded 3 interceptions; one of which was a pick-six. Cleveland ultimately let him go after they turned their seventh-round pick into a sixth-round pick thanks to the Patriots.
Subtractions/Regressions
Malcolm Butler's loss was quite a blow to the New England secondary, but you can hardly blame him for leaving after his absurd benching during Super Bowl 52. Butler only caught two interceptions last year, but his absence will definitely go noticed.
Now a Los Angeles Ram, wide receiver Brandin Cooks was Brady's No. 1 wide receiver and lethal deep threat. His 1-year tenure with the Patriots was short, but the return of Edelman and addition of Patterson will soften the blow of Cooks' departure.
Joining Butler in Tennessee, veteran running back Dion Lewis is also now a Titan. Therefore, the running back by committee situation continues to deepen as a decision must be made between the 7 total players competing for the limited backfield roster spots.
Prediction
The truth is, barring any miraculous organization turnarounds, there once again isn't much competition for the top seed in the AFC East.
The Patriots are coming off yet another Super Bowl appearance, and the expectation that they'll return again this year isn't all that far fetched. There may be a slight regression considering all the transactions made during the offseason, but none major enough to have to worry fans. A lot of questions will be asked and answered for certain positions as the season rolls along. However, at the end of the day, fans just want to know if Tom Brady can still get it done at 41 years old. Spoiler: He can.
2018 Record Prediction: 12-4.
Questions and comments?
thescorecrowsports@gmail.com
Follow Us on Twitter @thescorecrow
Follow Us on Reddit at u/TheScorecrow
Follow Richard Benites on Twitter @RichardIBenites
Main Credit Image: Embed from Getty Images