John Lepore | August 13th, 2018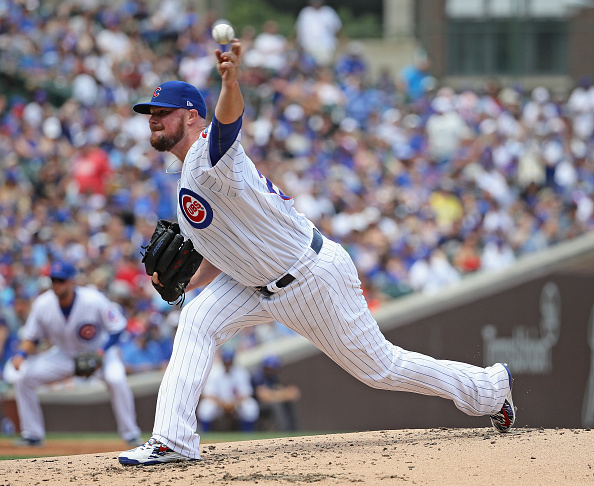 Pitchers hit bumps in the road as do hitters. There are peaks and valleys in baseball. It comes with the territory of playing 162 games a season. Naturally, fans react either positively or negatively to any spike in production. A young hitter goes 12-24 with 5 HRs in a week and all of a sudden he's Babe Ruth. A young pitcher goes 3-0 with a 1.00 ERA in an 11-day span and he is suddenly Greg Maddux. When is it time though to be concerned about a pitcher who has been solid, for the most part, his entire career?
Jon Lester has been through a lot in his career. Since he was drafted by the Boston Red Sox in 2002 out of high school he has seen many successes: He won three World Series, was an NLCS MVP, was a five-time All-Star, and beat cancer. He has also seen a couple of down times: He was part of the "Chicken and Beer" debacle in Boston in 2012 and oh yeah…he had to battle cancer.
Currently, Jon Lester is going through a tough stretch pitching-wise. After his June 20th start against the Los Angeles Dodgers, he had a 2.10 ERA and a 9-2 record. Since then he has a 7.51 ERA and is (miraculously) 3-3. Jacob deGrom dreams of that run support. This has happened to Lester before though. Last year from July 4th – September 2nd Lester had a 6.00 ERA and was 4-3 (again miraculously). He wound up pitching well in the playoffs. In his three appearances he threw 14.1 innings and although he gave up eight BB to seven Ks, he only allowed six hits and had a 1.88 ERA.
Jon Lester has been a consistent workhorse throughout his career. From 2008-2017, he has thrown at least 180 innings and started at least 31 games each season. He's had 15+ wins in seven of those seasons and a 3.75 ERA or lower in eight of those seasons. Lester is not the flashiest of guys. He goes out and does his job. And here is why Chicago Cubs fans shouldn't be worried:
Two starts in both stretches of 2017 and 2018 have damaged his ERA. In 2017 he gave up 11 ERs in 2.1 IP. If you take those two out then you have a 4.25 ERA which is not horrible. Again in this current stretch of nine starts, Lester has given up 16 ERs in 6.2 IP in two of them. Removing them would leave a 5.02 ERA. Granted you can't just take away clunkers like that, but you have to realize that taking a smaller sample size will skew the totals.
I'm not saying that Jon Lester is without his issues recently. He may be hiding an injury as some have suggested. It's possible as he was put on the DL with a lat strain last year at this time. But whether it's because of injury, fatigue, or just a plain slump, no one can argue that Lester comes to play. He will figure it out and be fine, albeit not flashy. His postseason record (9-7, 2.55 ERA, 1.027 WHIP) has been very good and he will be leaned on if the Cubs are going to make a run at another title.
Jon Lester is not the guy at work who shows off how hard he's working. He is also not the guy at work who calls in sick and slacks off whenever possible. He is the guy who punches in, does his job well, and goes home confident that he has made the team better.
Questions and comments?
thescorecrowsports@gmail.com
Follow Us on Twitter @thescorecrow
Follow Us on Reddit at u/TheScorecrow
Follow John Lepore on Twitter @jball0202
Main Credit Image: Embed from Getty Images