Frank Dyevoich | August 12th, 2018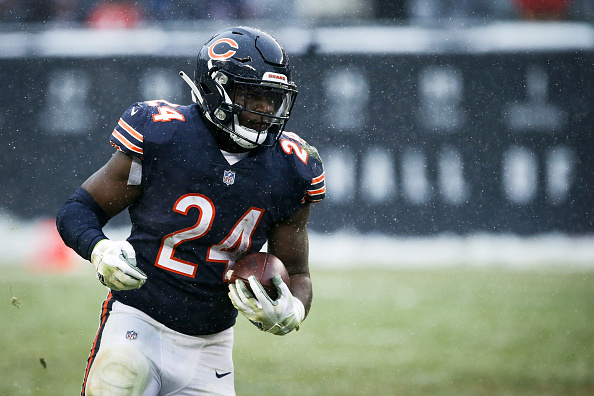 The running back position once again reigns supreme in fantasy football. There seemed to be a trend leaning toward wide receiver dominance given the consistency of the guys at the top, but the elite play of the NFL's best running backs over the past few seasons quickly put a stop to that. When preparing for your draft, you want to separate your running backs into tiers so you can find the best values without sacrificing production. Here is the third installment of Blood, Sweat, and Tiers. The first article on the rookies is here. The second on my likes and dislikes is here.
Tier 4
Jerick Mckinnon (SF) – Remember when I spoke about what an athletic freak Saquon Barkley was, well brace yourself, Jerick Mckinnon's scores were higher. He was a QB in college so he does not have the career training for the RB position that Barkley does, but he should still be one of the top performers at the position. Mckinnon posted the highest Nike SPARQ score ever recorded with a 155.7 (100th percentile) and he put up 32 reps of 225 on the bench press (99th percentile), 3 more than Barkley. He also finished in the 96th percentile in the 40-yd dash (4.41) and the 97th percentile in his burst score and was the top performer at the 2014 NFL Combine for vertical jump, broad jump, 3 cone drill and the 20-yd shuttle. Athleticism aside, Mckinnon has fallen into the perfect spot for fantasy success when he was handpicked by Kyle Shanahan to lead his offense.
The Shanahan offense uses a zone blocking scheme which is designed to block areas of the field instead of specific players. The system creates huge lanes initially and allows for wide open cut-back opportunities for RBs with vision. Shanahan's scheme helped Carlos Hyde finish as the RB8 with a career-high 80 targets and 59 receptions, and propelled Devonta Freeman to finish as the RB1 in 2015 and the RB6 in 2016. However, there is certainly plenty to worry about with Mckinnon as he was injured the last time he was given a heavy workload, has never garnered more than 202 touches and the 49ers offensive line is still bottom half of the league. However, with his elite athleticism and vision in the open field, Mckinnon appears to be the next Shanahan RB to take the fantasy world by storm. Draft him comfortably as your RB2 and target him as your RB1 in the 3rd if you take a WR in the first 2 rounds.
Jordan Howard (CHI) – Howard is vastly underrated by the fantasy community going into 2018. It's probably because he has bricks for hands, but that will not stop him from being a top 15 RB in both formats. Last year Howard finished 5th in carries (276), 6TH in yards (1,120) and tied for 3rd in rush TDs (9). Those totals were good for RB10 in standard and RB14 in PPR. These numbers are even more impressive when you consider that he saw 8+ defenders in the box 43% of the time, the 2nd highest percentage of all RBs with more than 200 carries. Although he constantly sees loaded fronts, Howard has still produced 1,448 YAC since 2016, 3rd most in that span. If Howard replicates his 2017 numbers, he would still be a value at his current 3rd round ADP, but in 2018 his numbers figure to grow, making him a steal.
This offseason the Bears re-vamped their entire offense by adding Allen Robinson, Trey Burton and Taylor Gabriel via free agency and drafting slot WR Anthony Miller. These moves open up the running lanes for Howard, forcing defenses to stay back and drop more guys into coverage. The Bears also beefed up their offensive line with center James Daniels and padded their already stout defense with LB Roquan Smith. Last year the Bears ran the 2nd fewest offensive plays, but with more weapons and a stronger defense, their time of possession in 2018 will increase drastically. This will result in more positive game scripts for the Bears and by default more production for Howard. Draft him comfortably as your RB2 knowing he will produce RB1 stats because the only time he hasn't was…never.
Joe Mixon (CIN) – Folks, the breakout is coming. Last season was disappointing for Mixon, but he enters 2018 as the unquestioned lead back for the Bengals. His 3.5 YPC might scare some people away, however, it took Mixon a while to find his footing as he averaged 5.0 YPC over his last 4 games. This is more impressive when you consider he was running behind arguably the league's worst offensive line. With a full offseason as the lead back in new offensive coordinator Bill Lazor's system, it's time to leave his 2017 woes in the past and hop on the hype train.
All signs point to Mixon being a true 3rd down back this year. Giovani Bernard will get touches here and there, but as the Bengals drafted his replacement in Mark Walton, this is Mixon's backfield. The Bengals beefed up their offensive line by trading for Pro-Bowl left tackle Cordy Glenn and drafting center Billy Price so they clearly plan to run the ball more next year. If we increase their rush attempts by 15% and give Mixon roughly 60% of the carries it is safe to project him for around 260-275 carries. With that type of volume behind the improved offensive line, Mixon could be in line for 1,500 YFS and 10 total TDs.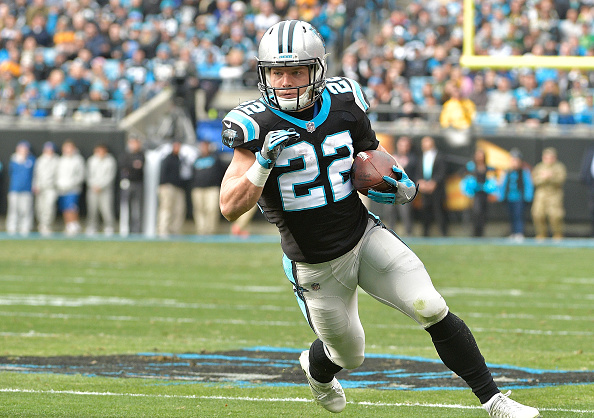 Christian McCaffery (CAR) – Run CMC was an exciting player to watch last year, finishing as the RB9 in PPR. He finished 3rd in receptions and 1st in targets, and he scored 5 receiving TDs. His 80 receptions were 1st on his team and his 113 targets were good for 23% of the Panther's total offensive targets. CMC also added 7.3 carries per game giving him a respectable 14 touches per game. With his explosiveness and agility in the open field, CMC can easily turn 14 touches per game into RB2 numbers, however, his target share and snap count are likely to decrease, making him a risky pick at his current ADP.
The Panthers added D.J. Moore in the draft, Torrey Smith in free agency and have Greg Olsen returning 100% healthy so it is unlikely that CMC can maintain his stranglehold on target share. CMC was also 3rd on his team in carries and Carolina added C.J. Anderson in free agency so he won't see an uptick in carries with the departure of Jonathan Stewart. With more offensive weapons in the passing game, the Panthers figure to be trailing less in 2018, which could hurt CMC's point total as 47% of his points last year came when the Panthers were trailing. With that being said, Offensive Coordinator Norv Turner compared him to Darren Sproles and stated that he wants to get him the ball more in space. Cam Newton also loves throwing to his shifty new toy.  There is certainly a lot to be hopeful for with CMC in 2018, but at his current ADP, I'm grabbing higher upside guys like Jordan Howard and Joe Mixon later, especially in standard leagues.
Devonta Freeman (ATL) – There is no sugar coating Freeman's mediocre performance last year. Between weeks 6-9 he averaged less than 10 PPR points a game and in week 10 he left in the first quarter with a concussion forcing him to miss the next 2 games. What's most peculiar is that Freeman practically disappeared in the 4th quarter, averaging less than 4 touches per game on the season. It certainly seems that Freeman is not the same RB he was when he finished RB1 and RB6 in 2015 and 2016, but a closer look at last season leaves high expectations for this year.
Despite a mediocre performance for most of the season, Freeman still finished as RB12 in standard and RB13 in PPR. He garnered 62.6% of the RB snap share and 57.4% of all RB touches. His 196 carries were his lowest total in 3 years, but he still averaged a respectable 4.4 YPC. Further, his 13 goal line carries (3rd in the NFL) evidence the fact that his role in the red zone is locked in. The Falcons offense is due for positive regression in 2018 and at the back of the 2nd Round, Freeman is very likely to outperform his ADP. He could easily be a 1,000-yard rusher and account for 9-12 total TDs.
On draft day, the ideal scenario for me would be a top 5 pick, where I would draft the highest rated RB available and then at the end of the Round 2 I can judge whether one of my Tier 4 RBs will fall to me in the Round 3. If I am confident one will fall to me, I can go ahead and draft the highest rated WR in round 2. If I don't think one will fall to me then I am perfectly fine starting the draft taking 2 RBs and then pounding WR in rounds 3-6. After you lock up your core RBs early, use the rest of the draft to jump on value when it lands in your lap. Stay tuned for tiers 1-3.
Questions and comments?
thescorecrowsports@gmail.com
Follow Us on Twitter @thescorecrow
Follow Us on Reddit at u/TheScorecrow
Follow Frank Dyevoich on Twitter @Fantasy_Giant
Main Credit Image: Embed from Getty Images
Main Credit Image: Embed from Getty Images