Cole Clore | August 4th, 2018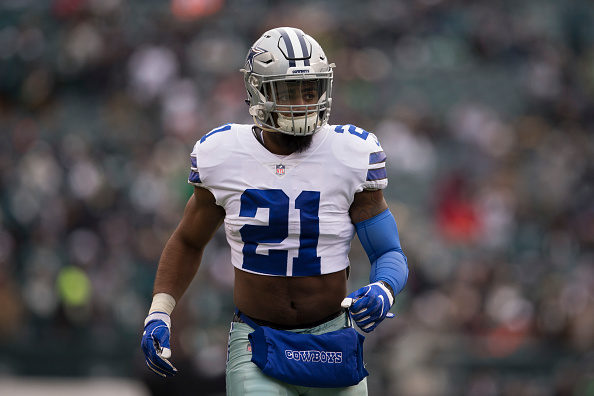 34 years ago, the NFL saw one of the most unbreakable records ever. Eric Dickerson in one season rushed for an incredible 2,105 yards. Dickerson averaged 131.6 rushing yards per game on an average of 23 carries per game, that means Eric averaged 5.72 yards per carry. Over the years, we've seen running backs come close: Adrian Peterson in 2012, Jamal Lewis in 2003, Barry Sanders in 1997, Terrell Davis in 1998, and Chris Johnson in 2009 all were within 100 yards of Eric Dickerson. With a new core of elite running backs in the NFL and coming soon, the question is if any of them can pass Eric Dickerson. I've found five running backs that could surpass 2,105.
Career Stats: 564 carries, 2,614 yards, 4.6 yards per carry.
PFF Offensive Line Ranking: 2nd, average rating 79.82
Going into his third year with the Dallas Cowboys, Zeke has already posted great numbers through his first two NFL seasons, running with the greatest offensive line in NFL history, and with his six-game suspension behind him, expect Elliott to bounce back and have a monster year. Now, despite this fantastic offensive line the Cowboys have not only one of the best young running backs but one of the best young quarterbacks in Dak Prescott as well. While it is possible Dak continues his sophomore slump, it's more than likely with Zeke back, Dak will bounce back and the Cowboys will have a solid season.
2. Todd Gurley
Career Stats: 786 carries, 3.296 yards, 4.2 yards per carry.
PFF Offensive Line Ranking: 10th, average rating: 73.80
Gurley had a fantastic rookie season with the Rams, had a sophomore slump, and then returned to form last season. The Rams are one of the best up and coming teams in the NFL. The only things that are holding back Gurley are Jared Goff and the excellent receiving core. The Rams don't need to rely on Gurley for their offensive prowess. With a more balanced attack, the Rams may only need Gurley to run for 1,000 to 1,500 yards. He is also a solid receiving back (one of the main reason Le'Veon Bell did not make this list). It is more than enough for the Rams to win their second straight NFC West division title.
College Career Stats: 671 carries, 3,843 yards, 5.7 yards per carry.
PFF Offensive Line Ranking: 25th, average rating: 63.24
The 2nd pick in this year's draft, and most people's pick for Offensive Rookie of the Year the newest running back for the New York Giants has immense potential. A fantastic college career at the University of Penn State, Barkley is ready to make an impact at the NFL level. He may not get the record in his first few seasons in the NFL, but when Barkley hits his prime, there's no telling what he can accomplish.
4. Kareem Hunt
Career Stats: 272 carries, 1,327 yards, 4.9 yards per carry.
PFF Offensive Line Ranking: 18th, average rating: 62.82
The best rookie running back in his draft class, Kareem is coming off a very surprising rookie season with the Kansas City Chiefs. However, there were games last year that saw Kareem struggle. A week 8 game against the Broncos in which he had 22 carries but only with 46 yards. Time will tell if Kareem can keep up this early career momentum, but if he can, Eric Dickerson's record might be in danger.
5. Bryce Love
College Career Stats: 403 carries, 3.126 yards, 7.8 yards per carry.
2019 NFL Draft Team/Projection: 16th, Baltimore Ravens
If he declared last year Love would have easily been a first-round selection, but instead he decided to stay at Stanford for what will be his senior year and final season. Love, if drafted by the right team, can make an impact right away and challenge for Dickerson's rushing record in the near future. If drafted by the Ravens, as this projection says, he would be joining Alex Collins who last year rushed for a solid 973 yards and 6 touchdowns. If Coach John Harbaugh decides that the two running backs could split time when carrying the ball, Love may not even get the chance to break Dickerson's record.
So which one of these running backs can surpass Eric Dickerson's single-season rushing record? All of these running backs have shown the potential of doing it. But which one will eventually be able to break out and be a part of football immortality?
Questions and comments?
thescorecrowsports@gmail.com
Follow Us on Twitter @thescorecrow
Follow Us on Reddit at u/TheScorecrow
Follow Cole Clore on Twitter @AmazingClore
Main Credit Image: Embed from Getty Images