Bruce Cagle Jr. | August 2nd, 2018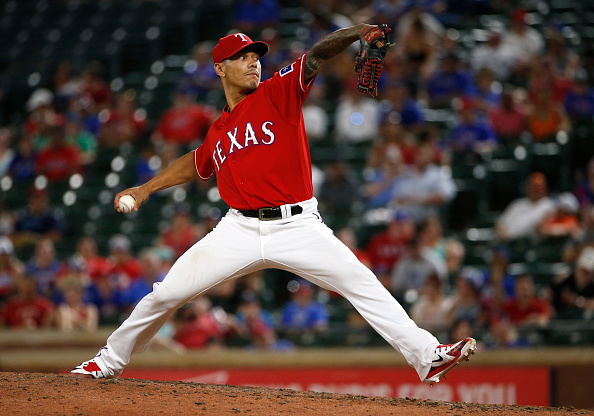 As we wake up in the new month of August, partially hung over from the intense trade deadline from yesterday, we have some fresh new faces in the closer role. There will also be some new teams entering the frustrating "closer by committee" approach. With the trade of Keone Kela to the Pirates, Jose Leclerc becomes my favorite add for immediate save help in all formats. I have some thought that Leclerc should have been closing over Kela in the first place. Let's play a quick "who'd ya rather"
| | | | | | | | | | |
| --- | --- | --- | --- | --- | --- | --- | --- | --- | --- |
| | Ings | K/9 | BB/9 | Hr/9 | Lob% | Era | xFIP | SwSt% | K-BB% |
| Player A | 39.2 | 12.71 | 4.31 | .23 | 64% | 2.27 | 3.42 | 15.6% | 23.2% |
| Player B | 36.2 | 10.80 | 3.44 | .74 | 74.1% | 3.44 | 3.56 | 12.0% | 19.8% |
If you're making a push for the playoffs or the overall goal of hoisting the trophy, don't you want the higher upside player? Player B looks to be performing at expectations and yet almost every single person has been jumping that bandwagon. Player A concerns me with walks but has the strikeout upside that we desire so badly. I'm sure by now you have guessed, player A is Leclerc, B is Kela. Let us dive into what is making this a breakout season for Leclerc. Over his past three seasons in the bigs, he has tinkered with his pitch usage. Back in 2016 for his brief 15 innings, he showed us five total pitches. We see a heavy usage in three primary pitches. The four-seam fastball (39.4%), slider (22.8%), sinker (21.6%), changeup (9.3), and curveball (6.9%) make up the core of his pitch mix. I say he tinkered because, the next year '17, he added another pitch, the cutter. He bumped up his fastball a few percent and same with his slider. Leclerc ended up throwing the cutter almost 10% of the time in 2017. Now, all this doesn't mean much without knowing what happened with those pitches. If you noticed all I noted was the pitches he threw more, what did he give up? He cut back on the sinker. In 2016, in his short sample of 56 total sinkers thrown, his WOBA (weighted on base average) was .376. Yikes. Move to 2017 where he threw 78 and his WOBA went higher!! .437 with a 17% whiff percent. Jeez, no wonder he is beginning to ditch the sinker. Jump to this year, I believe one of the biggest reasons he is taking the next step is because he now is throwing his slider 42% of the time. This years pitch mix is fastball (44.7%) and slider (42%) heavy. Sprinkling in a curve, change, and almost non-existent sinker (3%). Which by the way gave up his only triple on the year.
This slider though. Let's talk about that. Usage has been trending upwards for the third consecutive year. This is his leading strikeout pitch this year with 35 punch outs. Opponents can't seem to touch it. Batting a horrendous .169, slugging barely above that .186. The whiff rate is amazing at 54.5%. You can now see easily why this pitch has been getting featured more and more. His fastball command is what has bothered me. Elite spin rate, but can he control it is my main question. This year he has shown that he's getting better, with 19% BB rate. The previous year he was above 30% BB rate with his fastball. As long as he is throwing the slider +40% of the time, I just don't care as much. A lot of underlying stats prove this is more of a skill improvement than just luck.
This year with a minimum of 80 batted ball events Leclerc leads all of baseball IFFB% (infield fly ball). 33.3% is an amazing number. The reason I point to that is because a common "flaw" for Leclerc is an underwhelming ground ball/ fly ball ratio. He has only given up 1 home run this year. He just doesn't give up many home runs, 5 home runs in 100.1 innings MLB innings. So, mix in a high amount of pop ups and 35.2% k-rate, I'm not very concerned. Guess who leads all of MLB in average exit velocity? You're right again. It's Jose Leclerc at 82.3 mph. The only thing I think holding Leclerc back from being a top end closer is his ability to control the walks. If he can get anywhere under a 10% walk rate, you have a monster closer. I'm grabbing and holding him in keeper leagues. I hope he will tinker again and bring back the cutter. In 2017 when he threw the cutter 10% of the time he had encouraging results. .271 WOBA from his cutter is actually better then the his last two years' usage of his fastball. He had a very healthy 45.8% k-rate. He actually had a higher whiff percentage with his cutter than his slider in 2017 (58.5% to 50%). Imagine if he adds the cutter 15% of the time in 2018, he is next year's Blake Treinen (not because of the pitch usage, but think late round monster).
In other bullpens around the league, you'll need to grab Mychal Givens from the Orioles. He isn't having the best year as his k-rate has dipped a few percent, but he has always been a better bat misser than this. His xFIP isn't far off his 2017 mark (.33 difference) but the biggest reason is they don't really have anyone else there.
I'm personally staying away from the committee in Toronto now. You need saves now and you can't wait a few weeks for Ken Giles to get the gig. I can't trust the other two to actually save the game for me, so that to me is an easy pass.
My dark horse for some potential save opportunities is Xavier Cedeno. His swinging strike percent is at 14.6 this year, which makes me believe in his 30.7% strikeout rate. High with the walks at a 16.1% walk rate. Not ideal, but then again this is why he is my dark horse. If you take a look at his line so far this year though you'd be surprised. 1.17 ERA 1.17 WHIP in 15.1 innings and 19 strike outs. He's readily available in almost every league, CBS ownership has him at 0% while ESPN has him at .02%. If they give him more innings he might snatch up that closer job and give you a couple precious saves down the stretch.
Questions and comments?
thescorecrowsports@gmail.com
Follow Us on Twitter @thescorecrow
Follow Us on Reddit at u/TheScorecrow
Follow Bruce Cagle Jr. on Twitter @BruceCagleJr2
Main Credit Image: Embed from Getty Images