Scott Burke | August 1st, 2018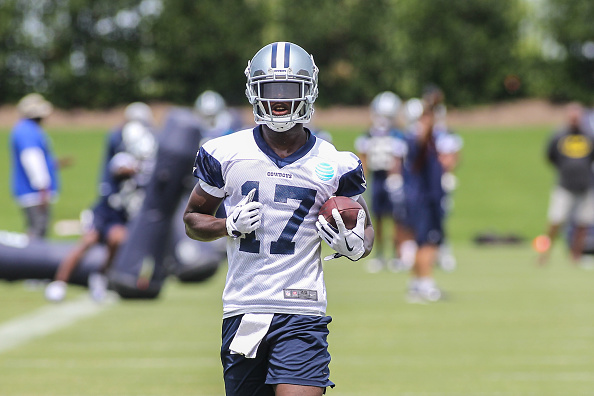 When one thinks about the Dallas Cowboys of the past decade, certain players come to mind. Two of those players, Jason Witten and Dez Bryant are no longer Cowboys. Witten retired and Bryant was released. So, not only does this signal the end of the Witten/Bryant era in Dallas, it also means someone needs to step up and take some of those vacated targets. Enter, Allen Hurns!
NFL Player Spotlight: Allen Hurns
Allen Hurns left the Jacksonville Jaguars and signed with the Dallas Cowboys in the offseason as a free agent. He actually signed with the Cowboys before Bryant was released and Witten retired. So all indications were he would be the number two wide receiver and third target option behind Witten and Bryant. Well, obviously things have changed. Hurns has since inherited the number one receiver job by default. Hurns has battled injuries during his career, but when healthy and on the field he has been a productive wide receiver.
Dez 2.0
For much of the past two years, when healthy, Hurns primarily lined up in the slot with the Jaguars. With Cole Beasley on the roster, Hurns figures to take over the role that was vacated by Bryant. During his breakout season of 2015, Hurns found himself in the top ten in both catch rate and receiving yards. He was targeted 105 times, catching 64 passes and scoring ten touchdowns. Hurns is more than capable of putting up numbers that will have Cowboys fans wondering if, they are in fact, still watching Bryant play. The numbers over the past three seasons for both players are eerily similar.
2015-2017
Dez Bryant: 38 Games Played, 150 receptions, 2,035 yards, 17 touchdowns
Allen Hurns: 36 Games Played, 138 receptions, 1,993 yards, 15 touchdowns
Target Competition
There will certainly be competition when it comes to targets for Hurns. There is Beasley who is two years removed from a 98 target, 75 catch season. Terrance Williams has averaged 74 targets over the past three seasons. The unknown however, is rookie Michael Gallup. The Cowboys drafted Gallup with the 81st overall pick in the third round to help fill the void left when Bryant was cut. Gallup was outstanding in two years at Colorado State averaging 15.3 yards per catch while scoring 21 touchdowns to go along with 2,690 yards. If he can adapt to the NFL right away, he certainly has the best chance to compete with Hurns for the top target share.
What Can We Expect
We all know that the ideal game-plan in Dallas is to have Ezekiel Elliott touch the ball nearly 30 times a game. However, with the Cowboys likely to be in more negative game-script situations than positive, Dak Prescott will be throwing the ball more often than the Cowboys would like. Hurns will be 26 years old when the 2018 season kicks off, and he knows this is a big point in his career. All indications are he is healthy and he has looked very solid in training camp. Look for Hurns to take advantage of the prime real estate that is AT&T Stadium in Dallas and make his mark as a legit number one wide receiver.
2018 Projections: 121 Targets, 81 Receptions, 1,087 Yards, 7 Touchdowns.
Questions and comments?
thescorecrowsports@gmail.com
Follow Us on Twitter @thescorecrow
Follow Us on Reddit at u/TheScorecrow
Follow Scott Burke on Twitter @Scot557
Main Credit Image: Embed from Getty Images