Pranav Ramasubramanian | August 1st, 2018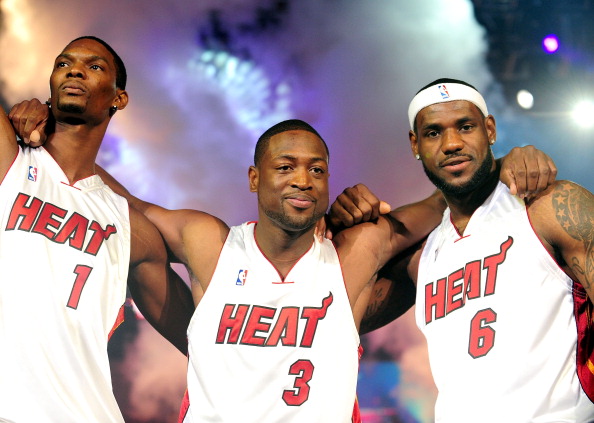 It was the year 2012 and the Boston Celtics had just taken a 3-2 lead on the superteam Miami Heat, who had not only King James, but also had Dwayne Wade and Chris Bosh. This was the second year of the Miami Heat having all three and expectations were sky-high because of how supremely talented the Miami Heat team was even without those three. The thing that made this a bigger deal was their past NBA Finals failure vs the Dallas Mavericks where the greatest player in the world, LeBron James had shrunk under the massive pressure of the NBA Finals.
People had written off the Miami Heat and underestimated LeBron James after the Miami Heat shrunk in Game 5 on their home floor with the Boston Celtics looking like a better team overall and seizing control of the series. LeBron James had been unable the solve the enigma code that was the superteam of the Boston Celtics in years past in Cleveland even going seven with them once before Boston took them down, but had beaten them the year prior in the semifinals due to the Boston Celtics getting older year by year. LeBron James had created the superteam in Miami for this sole purpose, but none knew how LeBron would play with everything on the line and potentially even his legacy.
It was Game 6 back at TD Garden in Boston and LeBron had this particular look on his face that signified things that were yet to come. LeBron James came out scorching hitting shots from all over the floor while also playing stellar defense and helped Miami build an early advantage. The Boston Celtics kept fighting because their team was old and they knew this could be the last year in their beloved championship window and keep chipping at the lead, but LeBron kept scoring to put up 30 1st half points and helped Miami hold a sizable lead that they hung onto until the end of the game. LeBron James finished with 45 points, 15 rebounds, and 5 assists before sitting in the 4th quarter when the game was out of reach. It's the best game I've seen LeBron James play because of the amount of pressure and scrutiny that was swirling and to rise up like that on the road vs Boston, who was a very well-coached and well-rounded team with Rajon Rondo, Paul Pierce, Kevin Garnett and Ray Allen all still playing at a high level. LeBron James had reached many career heights, but people care more about winning than personal statistics and a championship would quiet down all the skepticism. LeBron James had to chase away his stereotype of not being clutch when the team needed him and he knew this win would make it all worth it.
LeBron James never rested in Game 7 and even though the Miami Heat trailed for most of the game, LeBron and company pulled it together in the 4th quarter going on a 20-6 run to clinch themselves another trip to the NBA Finals with LeBron James putting up 31 points along with 12 rebounds. LeBron James had looked like a completely different beast in that series, despite Paul Pierce's stellar defense on him, and was on a mission to cement his legacy. LeBron James beat the Thunder, who had the trio of Kevin Durant, James Harden, and Russell Westbrook, in just five games to capture his 1st NBA championship and NBA Finals MVP in his 9th year. LeBron James was never looked at as a choker after these two playoff series because he helped close it out for his team for most of the games, which he failed to do vs the Mavericks the previous year. It's laughable because of how dominant and powerful LeBron James is now to think there was ever a time where he wasn't that great force that people regard him as. His focus can be lackluster, but when it matters most King James delivers big time for his teams.
LeBron gained some much needed poise in that situation vs the Celtics that actually helped him a lot moving forward on his career. An example would be in the 2013 NBA Finals and with the season on the line yet again LeBron James lead an epic rally in the 4th quarter vs the San Antonio Spurs, who had a great mix of superstar players and role players along with one of the NBA's greatest coaches ever in Greg Popovich in a Game 6 scenario getting his team back in it in the 4th quarter and although he missed a clutch three point shot that Bosh rebounded and tossed to Allen who drained it for one of the most iconic moments in NBA Finals history, LeBron was the one who had put the Heat in that position. The Miami Heat won Game 6 in OT and James hit the clutch jumper to seal Game 7 to give the Miami Heat back to back championships. The experience vs the Celtics also taught LeBron James that patience with the team chemistry would work wonders. 2014 was a tough year for LeBron and the Heat because they suffered so many injuries and weren't fully healthy till late in the season, but they all clicked instantly and lead the Miami Heat to another NBA finals before LeBron James decided he wanted to go back home to the Cleveland Cavaliers. LeBron caught a bad break his first year in Cleveland when his two superstars Kevin Love and Kyrie Irving got knocked out due to injury so he had to wait a year to claim that elusive championship for Cleveland overcoming a 3-1 deficit in the Finals by shutting down the perimeter game of the Golden State Warriors.
The greatest skill that the 2012 playoff win vs the Boston Celtics gave was discipline as he was able to steer his entire career in a different direction and even change his mindset after that playoff series. LeBron had lost to the Celtics many times before, but this time he took it upon himself that wouldn't happen and gave himself a killer instinct and mentality that led to so much more in his illustrious career. Point in example would be this past year when everything worked against him and he was boxed in unable to acquire any other quality player due to overpaying Tristan Thompson and J.R. Smith, but despite a rocky regular season with trades that shook up the whole roster, LeBron James was given a huge burden. LeBron James got the Cleveland Cavaliers past Victor Oladipo's feisty Indiana Pacers, Dwane Casey's well-rounded Raptors and the young Boston Celtics team to advance to his eighth straight NBA Finals and lead his Cleveland Cavaliers to yet another NBA Finals before they were embarrassed by the Golden State Warriors. LeBron James was able to get three championships since that 2012 playoff series and received NBA Finals MVP in each one with two of them going seven and LeBron making big plays to win those, for example, LeBron's block of Iguodala, his big shot making vs the OKC Thunder and his ability to rally the Miami Heat past the San Antonio Spurs. His newest move even showcases this as he decided to go the Los Angeles Lakers because of his trust in Magic Johnson and his personal business benefit to try and become one of the greatest players while being on one of the greatest franchises in all of American sports.
Questions and comments?
thescorecrowsports@gmail.com
Follow Us on Twitter @thescorecrow
Follow Us on Reddit at u/TheScorecrow
Follow Pranav on Twitter @PranavRama1
Main Credit Image: Embed from Getty Images