Caleb Mynatt | July 31st, 2018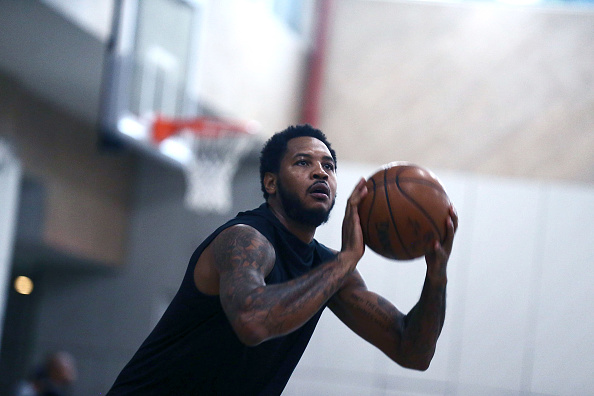 After Paul George and Carmelo Anthony joined the Thunder via trade last offseason, Oklahoma City fans were ecstatic. Feeling that George would contribute a lot of the scoring they lost when Kevin Durant left, as well as gambling on Carmelo Anthony's upside, OKC felt that they could compete for the championship in the 2017-2018 season. The loud and loyal fanbase was prepared to capture the feeling of success they once knew, a feeling they lost when Durant left. But like many teams in the NBA before them, things didn't exactly work out as they planned.
After crashing out in the first round to the Utah Jazz, Sam Presti and the Oklahoma City front office had one primary goal: to re-sign Paul George. After managing to convince George to stay, the Thunder then examined what made them not live up to expectations the season before.
Not surprisingly, the Thunder felt that a big reason for their under-performing was Carmelo. It wasn't a secret that Melo wasn't happy with his role in Oklahoma City; he complained about it immediately following their season-ending loss. After not getting the consistent scoring threat they felt Anthony would provide, and Anthony being unhappy with his situation, the Thunder were able to come to terms with the 34-year-old All-Star and trade him to the Atlanta Hawks for Dennis Schroder and Timothe Luwawu-Cabarrot. Alongside their signing of Nerlens Noel in free agency, the Thunder felt prepared to change the style of play they had a season before.
And by all indications, it should make them a lot better than they were.
What Went Wrong
There was a multitude of things that went wrong for the Thunder last season, but one of the main ones was losing Andre Roberson to a season-ending injury in January. At the time things looked very good for the Thunder. They were a top-ranked defensive team, they were scoring comfortably and their starting lineup was impossible to score on, recording a 95.9 defensive rating. But when Roberson got injured, they seemed to lose all of their defensive intensity and a lot of Anthony's offense. Tasked with stretching the floor and knocking down jumpers, Anthony only shot 39% from the mid-range and 35% from the three-point line for the season. With an overall field goal percentage of only 40%, Melo started to become a liability for the team that previously marveled at his talents.
Against a defensively-gifted Utah Jazz team, Anthony's production was essential for the Thunder to win the series. That's when Anthony hit the worst point of his time with OKC, shooting 21.4% from the three-point line and contributing only 11.8 points on 37.5% shooting in the playoffs. Even worse, Melo shot only 19% on catch-and-shoot threes and 27.3 on wide open threes, which were the kind of shots he was brought in to hit by design. After losing in six to a team that they should have beaten, it was safe to say that their experiment had failed. It was in the Thunder's best interest to move on from Carmelo Anthony.
So what does all of this mean for the Thunder? For starters, they should recognize that by offloading Melo they did not get any worse. Melo was rather inefficient on this 15 shots per game and, like the rest of his career, didn't really impact the game in another way. Melo didn't make anyone around him better, didn't play great defense and redistributing his shots has the potential to have a lot more impact. What they were able to add, however, is the real story of the offseason for Oklahoma City.
What's Next
Schroder is a tremendous point guard with a lot of upside in a bench role as opposed to a starting one. In his time in Atlanta as the starting point guard, he averaged 19.4 points and 6.2 assists on 43% shooting, and that ability to score is something the Thunder could really use from their bench that scored only 26.4 points per game last season. With Schroder, the Thunder now have a competent floor general to lead the second unit, similar to what they had when Reggie Jackson was their backup point guard. Last season the Thunder would build a lead with the starters and lose it when the bench came on. With Schroder, Oklahoma City won't have to worry as much when the starters need to rest.
As for Noel, he can add another level of size and athleticism to the OKC frontcourt that is already pretty huge. Noel's career hasn't exactly worked out quite as planned, but he still possesses the youth, length, and athleticism that made him such a coveted prospect. Playing alongside and learning from Steven Adams is bound to be rewarding for Noel given their similar skill sets, not to mention that Adams will be the best teacher Noel has had in his entire career. With Adams, one of the best defensive centers in the league, Noel can finally learn how to properly play defense: where to be, when to shift and how to better position himself for rebounds. As for his offensive game, it's important to remember that Noel was an 11 ppg scorer in his sophomore year and that he only attempted 105 shots last year. In a new situation, one that may be more friendly to him than Dallas, Noel could be due for a resurgence.
As for the stars, they should be happy with how everything has gone this summer. Schroder offers another ball handler and playmaker that could help make Russell Westbrook's life as a floor general easier and Noel is another big body that can clean up George and Westbrook's mistakes. Along with anticipating that the young team behind them is bound to improve, there is no reason for any of the players to be unhappy. There are a couple of glaring problems OKC still faces though, starting with their three-point shooting. Westbrook and Schroder both shot under 30% from three last season, and Alex Abrines is the only guard that can be considered a perimeter scoring threat. OKC was middle-of-the-road in nearly all of their three-point statistics and, although he left a lot to be desired, losing Melo won't make them any better at shooting. There is a chance that Schroder and Westbrook's playmaking ability could make each other more efficient shooters by improving their shot quality, and it's something the Thunder are heavily banking for. If not, they may be looking for shooters come buyout season.
The other main thing OKC needs to do is play as a unit. Last season the Thunder were the ranked 28th in assists per game, which admittedly held them back. As for this season, an improvement in passing is even more instrumental to their team success.  With less floor spacing, the Thunder are going to need to pass more to create more easy looks or risk their offense becoming a jumbled disaster of people taking bad, contested shots. If the Thunder can improve in these areas, their 2018-2019 campaign could be a memorable one. Putting it all together, however, is something this franchise has struggled to do.
Questions and comments?
thescorecrowsports@gmail.com
Follow Us on Twitter @thescorecrow
Follow Us on Reddit at u/TheScorecrow
Follow Caleb Mynatt on Twitter @CalebMynatt
Main Credit Image: Embed from Getty Images