Beth Sullivan | July 25th, 2018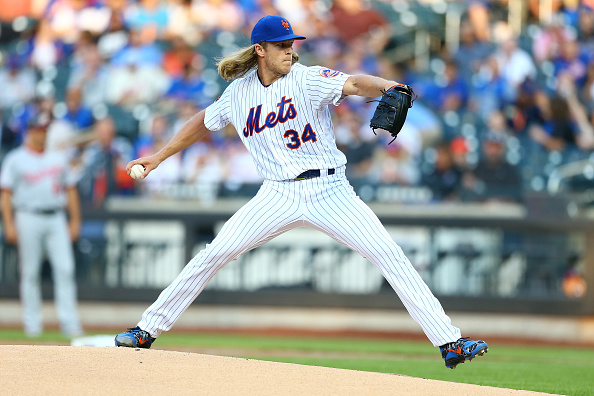 The news Monday morning was that Noah Syndergaard was being placed on the 10-day DL list after being diagnosed with Hand, Foot and Mouth Disease (HFMD). Most people have heard of this disease but what does it mean to his availability?
This condition is more common in children but can occur in adults. It generally is a self-limited viral illness caused by Coxsackievirus A16 in the US and Enterovirus 71 in children and adults in East and Southeast Asia. Enterovirus 71 has also been implicated in more severe cases that result in meningitis and encephalitis in some cases. The virus causes the infected person to have a moderate fever, develop blistered lesions in the mouth which are very painful, and flat red or raised blisters on the palms of their hands and the soles of their feet.
The virus is found in the nasal and oral secretions, lesion blister fluid, and fecal material of infected persons. Generally, persons with this condition are most infectious in the first week of the disease but can remain contagious for days to weeks after the fever and skin lesions clear. Some adults can have the virus and not know it, because their body is transmitting the virus thru their secretions without any outward signs of the disease.
In most cases, the infected person recovers and is ready to resume their normal activities in 7-10 days. However, in adults with this normal childhood disease, they can continue to secrete the virus for 8-10 weeks after diagnosis. A doctor will check secretions for the offending virus to make sure he is not infectious any longer before allowing him to return to work.
Transmission can be prevented by good hygiene habits including avoiding contact with nasal and oral secretions and feces of infected persons and frequent hand washing.
Further information on this condition can be found at the CDC infectious disease information site. CDC- Hand, Foot and Mouth Disease
Questions and comments?
thescorecrowsports@gmail.com
Follow Us on Twitter @thescorecrow
Follow Us on Reddit at u/TheScorecrow
Follow Beth Sullivan on Twitter @GAPeachPolymer
Main Credit Image: Embed from Getty Images