Kody Clawson | July 23, 2018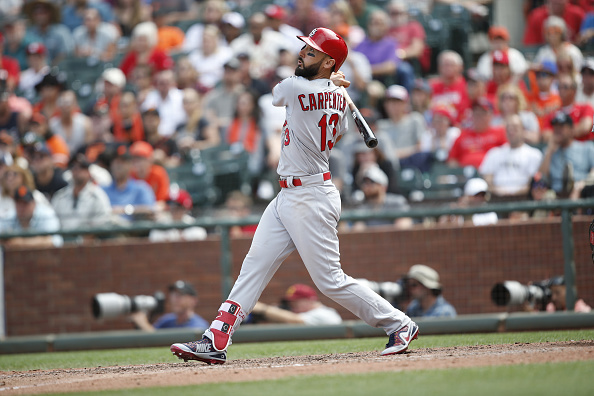 There's a revolution going on in baseball right now. A swing revolution, that is. Many players are changing their swing to put more loft on the ball and also to hit the ball harder. For several, this has led to a power increase and more home runs.  While it's not a tried and true method for everyone (just ask Leonys Martin), many players have enjoyed an increase in production over the past couple years with this change.
Because of this development, I've followed several hitters over the past year that follow the tenements of the swing revolution.  Statistically, I look at three specific details: how often you make contact with the ball, how hard you hit the ball, and the direction the ball comes off the bat. I roll those statistics together into one that I call Swing+. Comparing the rank of a hitter with that statistic to their Weighted On Base Average (wOBA) rank, I've found three specific hitters that warrant attention.
AVG/OBP/SLG – .263/.373/.530
wOBA – .382
wOBA Rank – 17
Swing+ Rank – 1
I'm mad at Matt Carpenter. It isn't because he's absolutely mashing, it's because he's doing it before I had a chance to write this article and look super smart. Carpenter's first half saw him hold a 46% fly ball rate with a 51% (!) hard contact rate. That hard hit rate is second amongst qualified hitters. This is all before his record-setting week that he's having right now. So why was his stat line just a measly .263/.373/.530 in the first half? Mostly, it stems from a rough first-month line of .155/.305/.274. Since then, he's hit an astounding .302/.399/.622. Many believed that his first-month troubles stemmed from him not fully recovering from his shoulder injury last season. Whatever the case, he's out of his funk and hitting like one of the best hitters in baseball. This might be an aggressive opinion, but if you can buy him for anything other than a first or second round talent, I'd do it. Good luck getting him now, though.
AVG/OBP/SLG – .221/.259/.394
wOBA – .281
wOBA Rank – 153
Swing+ Rank – 11
Salvador Perez has the biggest difference between my Swing+ rank and actual wOBA rank. He could be an interesting target for several reasons, most notably that the catcher position has been terrible as a whole this year. Perez himself has been no hero. His BABIP and contact rate are down, but his hard hit rate is up. Plus, he's been a guy more than willing to try to put the ball in the air the last couple years (0.74 GB/FB since 2016). If his BABIP bounces back and his home run rate starts to match up with his hard hit rate, we could be looking at a top catcher in most formats. Just don't look to him if you're in an OBP league, please.
AVG/OBP/SLG – .222/.312/.360
wOBA – .298
wOBA Rank – 132
Swing+ Rank – 23
At the beginning of the season, many believed Jason Kipnis was all but washed up. After only playing in 90 games and managing just an 82 wRC+, there was plenty of reason to believe just that. If there are any positives to his surface numbers, it's that he's already nearly matched his games played number from last season. Unfortunately, his 87 wRC+ from this year is nearly the same as well. However, he has shown some marked improvements from last season. He's hitting the ball harder (36.7% hard contact rate, compared to 30.1% last season) and putting the ball in the air a touch more, all while still having an above average contact rate. His June and July have shown these improvements, hitting at a .263/.364/.465 triple slash, with 6 homers and 4 stolen bases in 33 games (132 PA). It's not blowing anyone out of the water, but for a guy who plays up the middle that you might be able to get for next to nothing, it might just be worth it to take a stab at him.
Questions and comments?
thescorecrowsports@gmail.com
Follow Us on Twitter @thescorecrow
Follow Us on Reddit at u/TheScorecrow
Follow Kody Clawson on Twitter @KodyClawson
Main Credit Image: Embed from Getty Images