Richard Benites | July 22, 2018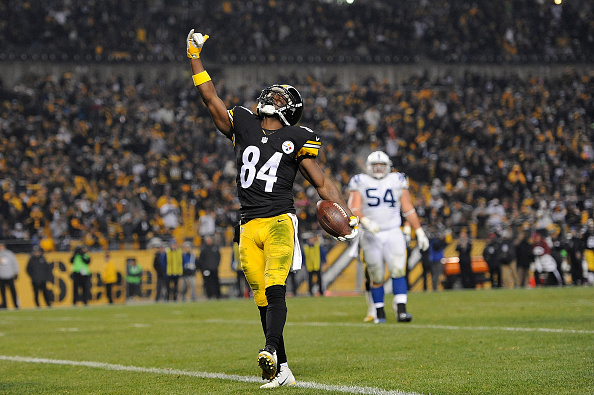 Psst! Want in on a little known Fantasy Football secret? Unfortunately, there are no secrets to direct fantasy success; especially when cash or, most importantly, bragging rights are on the line amongst friends. Instead, what I can offer you is an unfair (completely fair since you're putting in due diligence unlike others) advantage over your league competitors. Welcome to the Year of the 2-WR Draft Strategy.
Understanding the 2-WR Draft Strategy
Yes, I know draft strategies can be very situational at times and simply choosing any of the top available players is a safe bet. However, the takeaway from this article is as follows: wide receivers are a hot commodity.
Tired of losing to that one guy that somehow drafted Julio Jones AND DeAndre Hopkins? How about that terrible moment when you have to start a team's third string wide receiver because your bench depth sucks? Or maybe you want that, diamond in the rough, breakout player but you can't get him since you already wasted your waiver ranking on stashing Josh Gordon, because your bench depth still sucks.
The 2-WR Draft Strategy addresses all these issues by prioritizing star wide receivers into your first two fantasy draft picks. Furthermore, this strategy also recognizes that your following picks will still have a wide selection of fantasy relevant running backs to choose from; not to mention the stars from every other position will, more likely than not, all still be there in the third round.
Whether you're in an 8, 10, or 12-team league, you will certainly begin to notice a drought in availability for elite fantasy wide receivers, beginning as early as the third round. After dozens of simulated drafts, this pattern holds true no matter if you're an early or late round pick.
Strategy Breakdown
Disclaimer: The following round breakdowns are our recommended pattern and potential options in selection, once the 2-WR Draft Strategy is applied within your first couple of picks; it is user-friendly and flexible.
Round 1: WR
These first two choices will be the face of your team since you'll be following this particular strategy. Week in and week out you'll start them because they're consistent enough to get you those easy touchdown and long yardage points (unless it's Mike Evans who'll make you want to tear your hair out). To put it as simple as possible: draft Antonio Brown. If you're not that early of a pick, then consider our recommended picks.
Recommendation: Odell Beckham Jr. // Michael Thomas
Round 2: WR
If you for some reason aren't in a snake-style draft order, then please consider impeaching your commissioner. For those that are, you're already in a great position to snag yet another superstar wide receiver.
Recommendation: Keenan Allen // Davante Adams
Round 3: RB
Did we say this was a user-friendly strategy? Well, not yet. You've begun this 2-WR journey with us and now we're here to make sure you win this draft day. That being said, you definitely have to go running back here. Firstly because it's the next important position, but also because there's still a high chance that a star RB is still available.
Recommendation: Jordan Howard // LeSean McCoy
Round 4: TE or RB
Ta-da! Not too painful, right? Now you have a stellar first three picks under your belt, feel free to make sure everyone around you knows that. This fourth pick however is when you start weighing your options across positions. Tight end is a fair consideration here, especially if Travis Kelce is somehow still on the board; but guess what, there's still great running backs available here!
Recommendation: Zach Ertz // Kenyan Drake
Round 5: WR
Time to return to your roots here, except, oh what's this? Good news, a high scoring team's WR1 is still available. Even better news: that WR1 is now fully healthy and will surely see the ball come their way once more.
Recommendation: Alshon Jeffery // Brandin Cooks
Round 6: QB or RB
One of the big fantasy commandments is: Thou Shall Wait on Thy Quarterback. More reasonably, a good rule of thumb for this is that lucky Round 7 is the perfect place to draft a quarterback. Well, we're all about thinking ahead of the game here (only if the quarterback is truly worth it). If Russell Wilson is still on the board here, or one of the ACL brothers: Deshaun Watson & Carson Wentz, then go for it. If not, then live a little and choose one of the promising running backs available.
Recommendation: Drew Brees // Derrius Guice
Round 7: WR
You may say, wow, another wide receiver? Yes, trust us, we're doctors… okay we're not doctors. However, it seems like every year a breakout wide reciever is in high demand once the season runs along a few weeks. Therefore, have some faith in free agency and keep that wide receiver depth coming.
Recommendation: Will Fuller // Sammy Watkins
Round 8: WR or RB
It's now the eighth round and people are panicking since they took a backseat to wide receiver prioritization. Not you though, no, you were prepared and now you're ready my friend. The draft's halfway mark is now in progress but, before you pull the trigger on a DST or kicker, consider further improving your bench depth.
Recommendation: Devin Funchess // Mark Ingram
Round 9-15: RB, QB, TE, DST, K
Enjoy the fruits of your labor.
Questions and comments?
thescorecrowsports@gmail.com
Follow Us on Twitter @thescorecrow
Follow Us on Reddit at u/TheScorecrow
Follow Richard Benites on Twitter @RichardIBenites
Main Credit Image: Embed from Getty Images