Oscar Rzodkiewicz | July 20th, 2018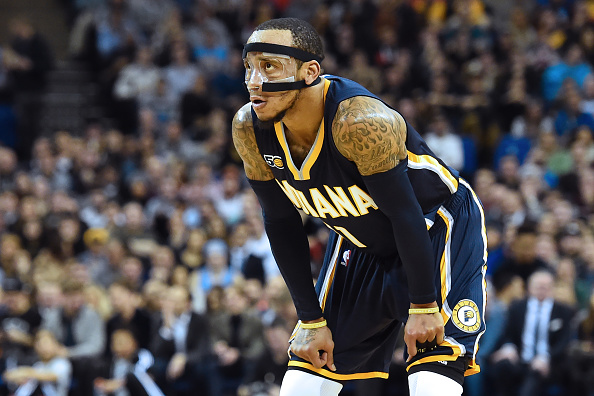 The Indiana Pacers, barring trade, effectively capped their offseason after acquiring some helpful pieces in Tyreke Evans, newly drafted Aaron Holiday, Doug McDermott, and Kyle O'Quinn, while retooling in an attempt to steal the Eastern Conference after LeBron James' departure from the team that knocked the Pacers out of the playoffs in 2018. With the top talent in the conference fading, Indiana looks to capitalize on the recent success of Victor Oladipo, Bojan Bogdanovic and the budding talent of Myles Turner to secure a home playoff series and push their limits even further.
Offseason Grade: A-
The Pacers' lineup last season dodged injury for the most part and consisted of its main eight rotational players participating in 22 or more minutes in at least 65 games over the course of the year. The only one of those contributors the Pacers lost this summer, Lance Stephenson was supplemented by the addition of Evans on a one-year, $12 million deal.
Pacers head coach Nate McMillan during a Pacers summer league game said, "we needed another playmaker coming off of our bench. We needed scoring. We needed some shooting." Evans revived his previously-fading numbers in a ball-dominant role with Memphis in 2017-18 to the tune of 19.4 points, 5.1 rebounds, and 5.2 assists averages.
Indiana chose to let 2014 second-round round pick Glenn Robinson and the young guard Joe Young walk, as well as stretching Al Jefferson's contract and likely not retaining Trevor Booker to create extra roster spots. With the open space on the bench, the Pacers picked up a good mix between young talent in Holiday and proven contributors in McDermott and O'Quin. McDermott and O'Quinn combined for 39.3 minutes per game in 132 games and contributed a total of 945 points and 604 rebounds for the New York Knicks in 2017-18.
It wasn't a big splash, but the Pacers clearly looked to upgrade and create flexibility for the future. In the 2019 offseason, Indiana will face seven expiring contracts, including the restricted free agent Turner, as well as Bogdanovic, Collison, Evans, Cory Joseph, O'Quinn, and Thaddeus Young. Despite the lack of long-term solidification of the roster, this could allow for a good point to either create future continuity in bright points of the lineup or allow the Pacers to pivot away from either aging or underperforming pieces.
Projected depth chart:
PG: Collison/Joseph/Holiday
SG: Oladipo/Evans
SF: Bogdanovic/McDermott
PF: Young/T.J. Leaf/Alize Johnson
C: Turner/Domantas Sabonis/Ike Anigbogu
Projected finish: Eastern Conference Semifinals
Despite a helpful summer, the Pacers seemingly remain, at best, the third banana behind Boston and Philadelphia in the Eastern Conference. With the Celtics' star power returning from injury and Philadelphia's young studs adding a year of experience, it's difficult to picture the Pacers defeating either of those squads or the revamped Toronto Raptors in a series without home-court advantage.
However, the Pacers are nothing to sneeze at in terms of depth and top talent. Oladipo proved his worth last season with All-Star level play, and many of the less-than-household names, like Bogdanovic and Collison, showed how important their contributions became by playoff time. Add in a sprinkle of upper echelon talent in Evans and some helpful rotational guys like Holiday, McDermott, and O'Quinn, and the Pacers boast a flexible, well-balanced team in a conference open to being snagged.
Questions and comments?
thescorecrowsports@gmail.com
Follow Us on Twitter @thescorecrow
Follow Us on Reddit at u/TheScorecrow
Follow Oscar Rzodkiewicz on Twitter @ORzodkiewicz
Main Credit Image: Embed from Getty Images