Caleb Mynatt | July 18th, 2018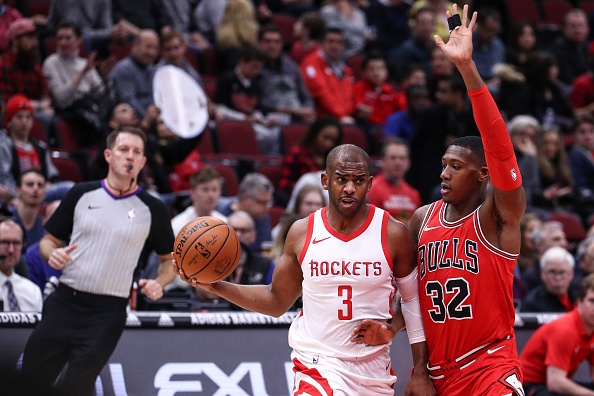 After an impressive year that saw the Houston Rockets break their franchise record in wins, clinch the top spot in the Western Conference, and come within a game of defeating the Warriors in the Western Conference Finals, the Rockets organization has had a lot to celebrate about in the last year.
The Rockets team that was so successful during the season, however, has had a less-than-successful offseason following their franchise-best season. Although the Rockets were able to retain Chris Paul on a four-year deal, they've officially lost Trevor Ariza and Luc Mbah a Moute and are struggling to come to terms with Clint Capela, all players who were instrumental to their success last year.
Last year the Rockets ran a rather thin rotation, especially in the playoffs. With James Harden and Paul predominately occupying the guard positions, the forwards switched between Ariza, Mbah a Moute, and P.J Tucker as the rotation pieces playing around the star-studded backcourt. Ariza, Mbah a Moute and Tucker added size, length, and skill, and the forwards became a fantastic defensive unit, without one individual significantly outplaying the other. Their ability to contest three-point shots and efficiently switch on screens because of their length made them a difficult unit to score on and a contributing factor to the Rockets 103.7 defensive rating during the regular season. The Rockets play a controlled style of basketball, one predicated on closing out possessions and not letting the team hit as many threes as they do. By losing Ariza and Mbah a Moute, the Rockets lost two of their main players that made them so good at doing those things.
As for the offensive end, both Ariza and Mbah a Moute were the perfect role players in the system that Houston utilized so well. In an isolation system that predicates itself on Harden and Paul having space to work, Ariza and Mbah a Moute were the players that helped create that space with their jump shooting ability. That ability, on top of their high basketball IQ, is what enabled the Rockets "barrage of threes" approach this season. As a unit, Ariza, Mbah a Moute and Tucker averaged 25.3 points per game and made 4.5 three-pointers per game. Interestingly, the Rockets also scored 68.5% of their threes off of assists this season, while 31.3% of their attempted threes came in catch and shoot situations.  While their ability to defer to their ball handlers and shoot an open three when they're passed to doesn't seem extremely impressive, it's what enabled the Rockets to reach unbelievable levels of offensive efficiency this year. Losing two of the three cogs that made the system run so smoothly is a huge loss on the offensive end of the floor, leaving the Rockets rather thin at the forward position.
Although the Rockets still haven't lost Clint Capela, their handling of his contract extension has also been rather disastrous. And he let everyone know how he was feeling after free agency opened on July 1.
😔

— Clint Capela (@CapelaClint) July 1, 2018
After his request for a $100 million, four-year contract was rejected by the Rockets, Capela is still in restricted free agency and trying to work out a deal. Although Houston has to be happy with the lack of a market for Capela so they don't have to match a high price tag for him, their inability to come to a consensus with the gifted big man has been something that could hurt the relationship between Capela and the team that he has played for his entire career. If both sides aren't able to come to a consensus, it could lead to Capela signing a short contract and leaving in unrestricted free agency for a more lucrative gig, assuming he continues to improve as he has done every season thus far. Losing Capela, a 14-point and 11-rebound per game player as well as the Rockets defensive anchor and inside presence would be detrimental to the Rockets game plan that they have worked so hard to perfect. Although the Rockets are still expected to resign Capela this season, his contract could look drastically different than the lengthy extension many had expected him to sign.
So where can the Rockets go from here to attempt to bolster their roster that now lacks depth? Adding James Ennis was a good start to replacing what they lost, and perhaps Michael Carter-Williams can thrive in a half-court situation alongside Harden, but the team is still not as good as the one that pushed Golden State to seven games. But there is also mutual interest between the Rockets and an all-star looking for a new team, according to Shams Charania:
The Houston Rockets have emerged as strong frontrunners to acquire Carmelo Anthony once he is free from Oklahoma City, league sources tell Yahoo. Anthony also has considered Miami.

— Shams Charania (@ShamsCharania) July 13, 2018
Because Carmelo Anthony's time with the Thunder is going to end after just one season, he has been linked to Houston as a landing spot this summer because of their position to contend for the title now and his well-known friendship with Chris Paul. For the Rockets, Carmelo is an exciting piece because of the scoring ability he has shown throughout his career, and he could also likely help replace the rebounding numbers that Houston lost this summer. However, can the Rockets be sure that that's what they would get out of the 34-year old former All-Star? Filling the open hole in the Rockets offensive system wouldn't be too different than what Melo's role was in OKC, to begin with, one that ultimately failed due to his inability to consistently make perimeter shots.  Even if Anthony could perhaps be more effective in isolation situations as he has previously been in his career, it is arguable that taking away attempts from Harden and Paul, who isolate more than anyone in the league and score on isolation attempts 51% and 44.1% of the time respectively, would hurt Houston more than it would help them.
As of now, the Rockets have taken a step back from last year. If the Rockets are able to bring out the best of Melo, this could turn out to be a fantastic offseason as opposed to an underwhelming one. If Melo can find his stroke again, he could be a fantastic offensive weapon for the Rockets. But for this marriage to truly work, it will also require a level of commitment from Melo to buy into the Rockets system. Anthony's scoring would be welcomed, but defense is what was the best about the Rockets forwards last year. If Melo can put in the effort on both ends of the floor and accept his role in the offense, he could make Houston even scarier than they were last year. But if he can't show the commitment or flexibility like he has done in the past, something Mike D'Antoni knows all too well, things could get ugly for Houston quickly.
Questions and comments?
thescorecrowsports@gmail.com
Follow Us on Twitter @thescorecrow
Follow Us on Reddit at u/TheScorecrow
Follow Caleb Mynatt on Twitter @CalebMynatt
Main Credit Image: Embed from Getty Images