Pranav Ramasubramanian | July 10th, 2018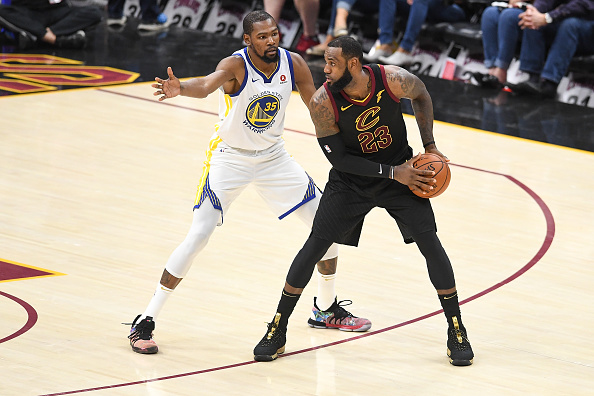 The Golden State Warriors just won back to back NBA championships and have won three of the last four creating an NBA dynasty that could be unbeatable for years to come.
The 2016 NBA Finals had just ended and Draymond Green was in the parking lot calling Kevin Durant and recruiting him to the Warriors after they blew a 3-1 lead in the Finals. Two weeks later the Warriors snatched Durant from the Oklahoma City Thunder in dire need of a new small forward. Harrison Barnes had been solid, but it seemed to be the team's most glaring weakness offensively despite going 73-9. They were able to recruit Zaza Pachulia who was famously remembered as the guy who broke Kawhi's quad. They also found some luck in the draft with Damian Jones and Patrick McCaw, who gave them good minutes off the bench. Stephen Curry letting his ego go was a big deal and caught everybody off guard because the Warriors didn't even need Kevin Durant and they were bitter rivals at the time.
Going for Greatness
LeBron James was the common enemy and they wanted to take him down so instead of opting for good they went for great. LeBron had created the superteam trend, but even he couldn't have envisioned it backfiring at this level. After beating the 73-9 Warriors in 2016, Kevin Durant's presence erased all hopes as the Golden State Warriors won in a dominant five-game performance. The Warriors only lost one game throughout the entire postseason and it was regarded as one of the best NBA playoff performances in NBA history with a mark of 16-1. The Golden State Warriors players were hungry for more, which led to Kevin Durant taking a massive pay cut to accommodate the salaries of Stephen Curry, Andre Iguodala, Shaun Livingston, Nick Young, and JaVale McGee. On draft day, they traded cash for Jordan Bell out of Oregon, who had come off an impressive season and had the potential to bring shot-blocking to the Warriors for a cheap price.
The Warriors struggled in the regular season with other up and coming teams like the Utah Jazz and the Minnesota Timberwolves starting to develop and the superteam counter by the Houston Rockets and Oklahoma City. They failed to win 60 games because of an injury-riddled season that saw at one point all four All-Stars unable to play on the court. They overcame this to finish 2nd in the Western Conference and discovered another talent in Quinn Cook, who averaged 18 points a game with Curry out. The Warriors didn't lose a beat when Curry didn't play in the first five games of the NBA Playoffs and had only lost one game beating the Spurs in five. The Pelicans had Rajon Rondo,Anthony Davis, Jrue Holiday, and Nikola Mirotic playing at a high level, but the Warriors handled them in five. The Warriors moved on to their biggest challenge in the Western Conference yet with a Rocket squad, who was No.1 in the West and had Chris Paul and James Harden playing at an MVP level. Iguodala got hurt in a Game 3 win and that changed the entire series for the Warriors, who looked primed to finish the series in five, instead blew close games in Games 4 and 5.
The Warriors got the break they needed in Chris Paul's hamstring injury that knocked him out for good and even though the Rockets led Games 6 and 7 in double-digits, they couldn't survive the 3rd quarter ambush in both games and the Warriors advanced to another NBA Finals. The result in the NBA Finals was inevitable due to Kyrie Irving moving teams. LeBron had zero help and the Warriors swept them to go back to back. Bob Myers knew getting Kevin Durant would be a huge risk because of the money and team chemistry, but he decided to roll the dice and ultimately may have created a dynasty in doing so. The Warriors have drafted well with Stephen Curry, Klay Thompson, and Draymond Green and have built the team with great patience. The Warriors let JaVale McGee and Zaza Pachulia leave in an effort to develop Looney and Bell. The Warriors would then make a great chess move to try and capture that elusive three-peat.
Moving Forward
DeMarcus Cousins tore his Achilles in February and didn't play for the rest of the season, but when healthy he was a 20/10 player, who could do it all and give 100% on the floor despite being very emotional. Cousins was looking for a max but was frustrated with what teams were offering or had no interest due to attitude issue. He called the Warriors and asked about an open roster spot. The Warriors welcomed him in for a 5 million dollar deal so he could show the NBA he was still capable of a max contract despite his injury. Even if DeMarcus Cousins is 50%, it would still be amazing for a team who didn't need him in the first place. They also signed Jonas Jerebko for more spacing and David West is getting old. Just imagine a 100% Cousins in a lineup along with Stephen Curry, Klay Thompson, and Kevin Durant setting up the Warriors to be on top of the NBA yet again.
Questions and comments?
thescorecrowsports@gmail.com
Follow Us on Twitter @thescorecrow
Follow Us on Reddit at u/TheScorecrow
Follow Pranav on Twitter @PranavRama1
Main Credit Image: Embed from Getty Images