John Lepore | July 9th, 2018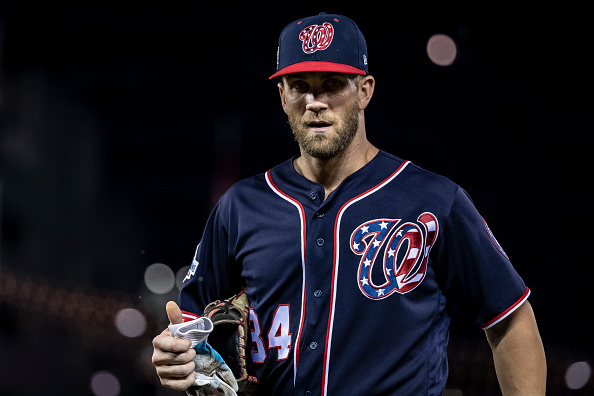 One of the toughest decisions a team has to make is if they will be buyers or sellers at the trade deadline. There are many things to consider: The fan base, money issues, prospects and the overall farm system, the chances of winning it all. Here are four teams that will have the big decision to make at the deadline.
Washington Nationals (45-44) The Nats are only five games from a playoff spot. They also have three major components of their team hitting free agency in the offseason: Bryce Harper, Danny Murphy, and Gio Gonzalez. While the Nats have a strong core in Max Scherzer, Stephen Strasburg, Trea Turner, and Juan Soto, they may need to look to replenish a weak farm system. They also may see this as an opportunity to win a playoff series. The next few weeks will tell.
If They Go For It: If the Nats decide to go for it, they still have Victor Robles and Carter Kieboom who they can move for a strong piece to get them in the playoffs and possibly beyond the first round. Either one of those prospects, along with maybe something else, should be good enough to get a top-notch player and maybe even someone controllable moving forward.
Trade Possibility: Robles to Toronto for Happ and Cavan Biggio.
If They Sell: They can trade Harper, Murphy, and Gonzalez to replenish their farm system and even return a few major-league ready pieces. They would likely go with starters and a few infield pieces.
Trade Possibility: Harper to Houston for Cionel Perez and a lower prospect. Murphy to Boston for Sam Travis and a lower prospect. Gonzalez to New York for Chance Adams and a lower prospect.
St. Louis Cardinals (46-43) The Cardinals never rebuild. This year though they may want to think about at least retooling. They are not as good as the Brewers and Cubs, who will both be upgrading this year to make a run, but the Birds are only 4 games out of a playoff spot. While they are in the top five in the NL in ERA (3.75), they are in the bottom half in runs scored (390) and OBP (.315). Their pitching is young and controllable but their hitting could use a boost especially in the middle of the lineup.
If They Go For It: They could be in the mix for Manny Machado. They could also go after a player like Adam Jones. Both would help in the middle of the lineup and on the defensive side of the ball.
Trade Possibility: Luke Weaver, Tyler O'Neill, and Edmundo Sosa to Baltimore for Machado. Weaver or Jack Flaherty for Jones.
If They Sell: Michael Wacha is on the disabled list right now but has pitched well and has one more year of control. If he can get healthy before the deadline, he may bring back a couple of good pieces. Matt Carpenter is signed through next year also and has a team option for 2020.
Trade Possibility: Wacha and Carpenter to New York for Miguel Andujar, Clint Frazier, and a lower minor leaguer.
Colorado Rockies (46-44) The Rockies expected their bullpen to be their strength this year after they went out and signed Bryan Shaw, Wade Davis, and brought back Jake McGee. Well, that hasn't quite worked out. The aforementioned three relievers have combined for a horrendous 5.63 ERA and a 103/47 K/BB ratio. As expected they are in the top five in most offensive categories. Unfortunately, they are next to last in the NL in ERA (4.79). Only four and a half games out of the playoffs, they could still make a move to stabilize the bullpen and the staff. They also have some good bats to move like D.J. LeMahieu who will hit the market at the end of the season. They could also move, dare I say it, Nolan Arenado.
If They Go For It: They could be in the mix for any number of starters or relievers. They have depth in the organization in the infield with Brendan Rodgers and Colton Welker to name a few.
Trade Possibility: Brendan Rodgers, Tyler Nevin, and a lower minor leaguer to New York for Jacob deGrom.
If They Sell: LeMahieu will go and they could trade Arenado, who is not a free agent until 2020, for a haul.
Trade Possibility: LeMahieu to Boston for Alex Scherff. Arenado to Atlanta for Luiz Gohara and Christian Pache and a couple lower prospects.
San Francisco Giants (47-45) The Giants acquired Andrew McCutchen and Evan Longoria in the offseason in the hopes of contending for at least this year. They have had injuries to all three of their top starters. Their hitting also hasn't been quite what they envisioned as only the Mets, Marlins, and Padres have scored fewer runs this season. The bullpen has been a strong point this season with the trio of Tony Watson, Will Smith, and Reyes Moronta combining for a 1.54 ERA and logging 123 Ks in 105 innings.
If They Go For It: The Giants could use a good outfield bat as Hunter Pence looks finished and they moved Austin Jackson out of town. While Steve Duggar may get his shot, the Giants may look to bulk up for the stretch run.
Trade Possibility: Garrett Williams and a lower prospect to Baltimore for Adam Jones.
If They Sell: They could move several players, including some bullpen pieces, but the most likely player shipped out would be McCutchen.
Trade Possibility: McCutchen to Cleveland for Nolan Jones and a lower prospect.
Questions and comments?
thescorecrowsports@gmail.com
Follow Us on Twitter @thescorecrow
Follow Us on Reddit at u/TheScorecrow
Follow John Lepore on Twitter @jball0202
Main Credit Image: Embed from Getty Images