Brian Handzel | July 8th, 2018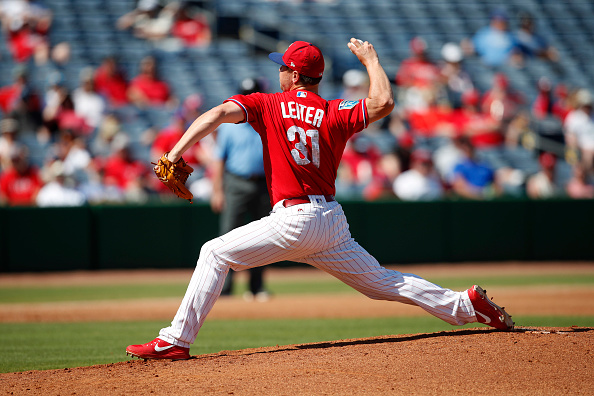 The call to the Majors is one of the most exciting times in a player's career, right behind actually getting drafted. Not everyone that is called to the Major League is destined to be there, but even if a player is only up for a day, they are still a Major League Baseball player for the rest of their lives, and no one can take that away from them.
On June 30 there were a total of 11 call-ups. Both Jimmy Sherfy of the Diamondbacks, and Giovanny Gallegos of the Yankees, are players that have already been called up multiple times this season. Mark Leiter, a pitcher in the Philadelphia Phillies organization may sound familiar. Baseball fans most likely know the name because of his uncle, Al Leiter. His father, Mark Leiter also played 11 seasons in the Majors from 1990-2001.
July 1st saw seven call-ups. Dillon Maples is another pitcher who has been making the journey back and forth between the Iowa Cubs and the Chicago Cubs. This season Maples has a 16.88 ERA in 2 games. He has pitched 2.2 innings allowed 5 earned runs with a WHIP of 2.63.
Ten players got a phone call on July 2nd to join their Major League club. Another day, and another instance of multiple players being called up, not for the first time. Evan Phillips was promoted to Atlanta for the second time in 3 weeks. Phillips still has not made an appearance in the majors despite being called up twice. In Triple-A this season Phillips has posted a 4-4 record with a 2.09 ERA in 29 games while posting a WHIP of 1.06.
Lourdes Gurriel, once again, got called up for the third time in three weeks. In Triple and Double-A this season Gurriel is posting a slash line of .299/.368/.467 with an OPS of .835 in 46 games.
Zach Littell had an interesting day on Monday when he got promoted to the Major Leagues just to be sent down in the same day. In his relief appearance for the Twins, Littell walked a batter and ended up walking in the winning run in the loss to the Brewers.
Twelve phone calls were made just ahead of Independence Day for players to come up to the Major Leagues. Again, there were multiple players that were called up to the show, not to the first time in their careers. Yefry Ramirez made the trip again from Norfolk to Baltimore. While up in Baltimore Ramirez has appeared in two games, suffering the loss in one of those, posting a 2.51 ERA in 14.1 innings pitched. Ramirez has allowed four earned runs on eight hits while striking out 13 and walking only four.
Tim Federowicz has also been called up this week, not for the first time. He isn't on the disabled list yet, but Federowicz was called up because Brian McCann may be headed to the list after getting hit earlier in the week. Federowicz has played in three games this season while batting .263/.300/.421 with a .721 OPS. For his career, which has totaled 122 games since 2011 Federowicz has posted a batting line that is suboptimal, hitting .200/.249/.314 with a .563OPS.
Eduardo Paredes has also made the trip multiple times this season, and this week he actually got called up and sent down in the same day without throwing a single pitch. So far this season with the Angles, Paredes has played in 13 games posting an abysmal 7.71 ERA in 16.1 innings pitched. Paredes has allowed 14 runs on 25 hits while striking out 13 and walking 6.
The Fourth of July is usually a day off for most professions, that is certainly not the case for baseball players, especially the 17 who were called up today.  Ryan Weber is the latest addition to the players to get the call to the Majors just to be sent back down in the same day. Weber at least got to participate in the game, going 5 innings after the Ray's "opener" went two innings to start the game. Weber allowed two runs on four hits while striking out 1 and walking 1. Weber got credited with the loss before he got sent back to Triple-A Durham.
Jabari Blash returned to the Angels roster on Wednesday. This season for the Angels Blash has played in 7 games batting .111/.238/.111 with a .349 OPS. These numbers are bad, especially compared to his career numbers of .194/.317/.320 with a .637 OPS. These abysmal numbers could be due to a lack of playing time.
July 5th was a slow day for calls ups, with only a total of five players making the trip. Today, there are two players that have been to the Majors before, so this trip isn't as exciting for them anymore. Ben Meyers, the pitcher in the Marlins organization and Ricardo Rodriguez, the pitcher in the Rangers organization.
David Freitas got the call up to Seattle today, and you can see why when you look at his numbers. In 12 games down in Triple-A Tacoma Freitas is batting .395/.458/.488/.947 while only striking out four times.
On July 6th, Dilson Herrera made his MLB debut on August 29, 2014, but has been playing most of his time in the Minors. This season he has split most of his time between Single-A Dayton and Triple-A Louisville. In 71 total games in the Minors this season, Herrera is batting .297/.365/.454/.818.
Tyler Wade is another player made his MLB debut in a previous season (2017) but has spent most of his time down in the Minors. Wade has played a total of 44 games in the Majors and 588 games in the Minors. At Triple-A Scranton/Wilkes Barre this season Wade has played in 64 games batting .271/.332/.376/.708. In essence, the only reason Wade has made the trip up to the Bronx is due to the injury to Gleyber Torres.
On the last day of the week, we saw a player make his MLB debut. Kyle Tucker was called up for the first time in his career and made his Major League debut today! Tucker was tucked into the 7 spot in the lineup and started in left field. In his debut, Tucker went one for four with one walk and three strikeouts.
Alex McRae got called up to the majors for the first time in his career. He has yet to play in a Major League game yet though. So far this season in Triple-A Indianapolis, McRae has a 3-7 record with a 4.61 ERA in 84 innings pitched. In those 84 innings, he has also struck out 80 while walking 39.
So fans, that's the call to the Majors for the week ending on July 7. Now go out there, get that hidden gem on your fantasy team, and dominate your league! Check my Twitter page @HandzelSports for the latest important Calls To The Majors! Full chart below:
June 30
Player
Position
From Team
To Team
Jimmy Sherfy
Pitcher
Reno (AAA)
Arizona (MLB)
Max Fried
Pitcher
Gwinnett (AAA)
Atlanta (MLB)
Raimel Tapia
Outfielder
Albuquerque (AAA)
Colorado (MLB)
JT Chargois
Pitcher
Oklahoma City (AAA)
Los Angeles (NL) (MLB)
Kaleb Cowart
INF
Salt Lake (AAA)
Los Angeles (AL) (MLB)
Pablo Lopez
Pitcher
New Orleans (AAA)
Miami (MLB)
Adalberto Mejia
Pitcher
Rochester (AAA)
Minnesota (MLB)
Giovanny Gallegos
Pitcher
Scranton/Wilkes Barre(AAA)
New York (AL) (MLB)
Mark Leiter
Pitcher
Leigh Valley (AAA)
Philadelphia (MLB)
Hunter Wood
Pitcher
Durham (AAA)
Tampa Bay (MLB)
Jake Petricka
Pitcher
Buffalo (AAA)
Toronto (MLB)
July 01
Player
Position
From Team
To Team
Silvino Bracho
Pitcher
Reno (AAA)
Arizona (MLB)
Dillon Maples
Pitcher
Iowa (AAA)
Chicago (NL) (MLB)
Marc Rzepczynski
Pitcher
Columbus (AAA)
Cleveland (MLB)
Aaron Wilkerson
Pitcher
Colorado Springs (AAA)
Milwaukee (MLB)
David Hale
Pitcher
Scranton/Wilkes Barre(AAA)
New York (AL) (MLB)
Jake Thompson
Pitcher
Leigh Valley (AAA)
Philadelphia (MLB)
Carlos Asuaje
INF
El Paso (AAA)
San Diego (MLB)
July 02
Player
Position
From Team
To Team
Joey Krehbiel
Pitcher
Reno (AAA)
Arizona (MLB)
Evan Phillips
Pitcher
Gwinnett (AAA)
Atlanta (MLB)
Michael Reed
Outfielder
Gwinnett (AAA)
Atlanta (MLB)
William Cuevas
Pitcher
Pawtucket (AAA)
Boston (MLB)
Jim Adduci
Outfielder
Toledo (AAA)
Detroit (MLB)
Mikie Mahtook
Outfielder
Toledo (AAA)
Detroit (MLB)
Zach Littell
Pitcher
Rochester (AAA)
Minnesota (MLB)
Nate Orf
INF/OF
Colorado Springs (AAA)
Milwaukee (MLB)
Tyler O'Neill
Outfielder
Memphis (AAA)
St Louis (MLB)
Lourdes Gurriel
INF
Buffalo (AAA)
Toronto (MLB)
July 03
Player
Position
From Team
To Team
Tim Federowicz
Pitcher
Fresno (AAA)
Houston (MLB)
Gabriel Moya
Pitcher
Rochester (AAA)
Minnesota (MLB)
Joey Rickard
Outfielder
Norfolk (AAA)
Baltimore (MLB)
Yefry Ramirez
Pitcher
Norfolk (AAA)
Baltimore (MLB)
Greg Allen
Outfielder
Columbus (AAA)
Cleveland (MLB)
Antono Senzatela
Pitcher
Albuquerque (AAA)
Colorado (MLB)
Tim Federowicz
Catcher
Fresno (AAA)
Houston (MLB)
Miguel Almonte
Pitcher
Salt Lake (AAA)
Los Angeles (AL) (MLB)
Eduardo Paredes
Pitcher
Salt Lake (AAA)
Los Angeles (AL) (MLB)
Gabriel Moya
Pitcher
Rochester (AAA)
Minnesota (MLB)
Dovydas Neverauskas
Pitcher
Indianapolis (AAA)
Pittsburg (MLB)
Colten Brewer
Pitcher
El Paso (AAA)
San Diego (MLB)
July 04
Player
Position
From Team
To Team
Luiz Gohara
Pitcher
Gwinnett (AAA)
Atlanta (MLB)
Victor Caratini
Catcher
Iowa (AAA)
Chicago (NL) (MLB)
Cody Reed
Pitcher
Louisville (AAA)
Cincinnati (MLB)
Tanner Rainey
Pitcher
Louisville (AAA)
Cincinnati (MLB)
Trevor Oaks
Pitcher
Omaha (AAA)
Kansas City (MLB)
Jabari Blash
Outfielder
Salt Lake (AAA)
Los Angeles (AL) (MLB)
Deck McGuire
Pitcher
Salt Lake (AAA)
Los Angeles (AL) (MLB)
Dillon Peters
Pitcher
New Orleans (AAA)
Miami (MLB)
Aaron Slegers
Pitcher
Rochester (AAA)
Minnesota (MLB)
Josh Smoker
Pitcher
Indianapolis (AAA)
Pittsburg (MLB)
Luis Perdomo
Pitcher
El Paso (AAA)
San Diego (MLB)
Kelby Tomlinson
INF
Sacramento (AAA)
San Francisco (MLB)
Ryan Weber
Pitcher
Durham (AAA)
Tampa Bay (MLB)
Andrew Kittredge
Pitcher
Durham (AAA)
Tampa Bay (MLB)
Chris Martin
Pitcher
Round Rock (AAA)
Texas (MLB)
Rhiner Cruz
Pitcher
Buffalo (AAA)
Toronto (MLB)
Luis Santos
Pitcher
Buffalo (AAA)
Toronto (MLB)
July 05
Player
Position
From Team
To Team
Silvino Bracho
Pitcher
Reno (AAA)
Arizona (MLB)
Ben Meyer
Pitcher
New Orleans (AAA)
Miami (MLB)
David Freitas
Catcher
Tacoma (AAA)
Seattle (MLB)
Ricardo Rodriguez
Pitcher
Round Rock (AAA)
Texas (MLB)
Jefry Rodriguez
Pitcher
Syracuse (AAA)
Washington (MLB)
July 06
Player
Position
From Team
To Team
Evan Phillips
Pitcher
Gwinnett (AAA)
Atlanta (MLB)
Dilson Herrera
2nd Basemen
Louisville (AAA)
Cincinnati (MLB)
Oliver Drake
Pitcher
Salt Lake (AAA)
Los Angeles (AL) (MLB)
Aaron Wilkerson
Pitcher
Colorado Springs (AAA)
Milwaukee (MLB)
Paul Sewald
Pitcher
Las Vegas (AAA)
New York (NL) (MLB)
Tyler Wade
INF/OF
Scranton/Wilkes Barre(AAA)
New York (AL) (MLB)
July 07
Player
Position
From Team
To Team
Jordan Patterson
1B/OF
Albuquerque (AAA)
Colorado (MLB)
Jerry Vasto
Pitcher
Albuquerque (AAA)
Colorado (MLB)
Kyle Tucker
Outfielder
Fresno (AAA)
Houston (MLB)
Pat Vedditte
Pitcher
Oklahoma City (AAA)
Los Angeles (NL) (MLB)
Jorge Lopez
Pitcher
Colorado Springs (AAA)
Milwaukee (MLB)
Clint Frazier
Outfielder
Scranton/Wilkes Barre(AAA)
New York (AL) (MLB)
Nick Martini
Outfielder
Sacramento (AAA)
Oakland (MLB)
Alex McRae
Pitcher
Indianapolis (AAA)
Pittsburg (MLB)
Kazuhisa Makita
Pitcher
El Paso (AAA)
San Diego (MLB)
John Anderoli
Outfielder
Tacoma (AAA)
Seattle (MLB)
Chase d'Arnaud
Shortstop
Sacramento (AAA)
San Francisco (MLB)
Questions and comments?
thescorecrowsports@gmail.com
Follow Us on Twitter @thescorecrow
Follow Us on Reddit at u/TheScorecrow
Follow Brian Handzel on Twitter @HandzelSports
Main Credit Image: Embed from Getty Images