John Lepore | June 20th, 2018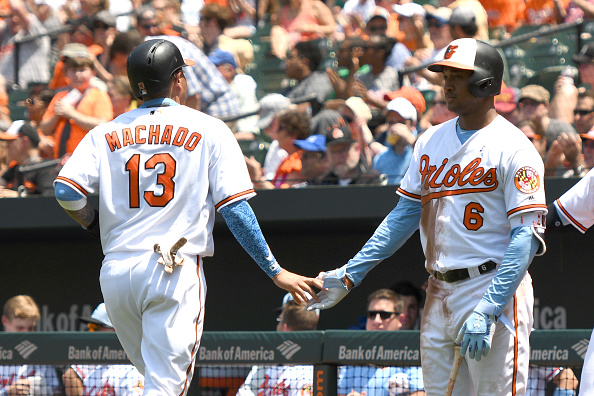 Every year there are teams who rise to the top because of an unsung hero, a rookie stepping in, or a triumphant return from injury by a veteran. On the flip side, there are teams who are at the bottom and underachieving or simply too young and rebuilding. Here are the bottom 10 teams in the league and some bright spots that those teams can possibly build on moving forward.
1. Baltimore Orioles (20-51) With a team ERA of 4.94 and a team AVG of .228, it's no surprise the Orioles are the worst team in the majors. Manny Machado will be traded possibly along with Adam Jones, Zach Britton, and even Brad Brach. Let the rebuild begin.
Bright Spot – Dylan Bundy is continuing in the right direction. His walk rate has stayed the same but his K rate is up nearly 2.0%. His ERA is 3.81 and his xFIP agrees at 3.96. In the AL East that is pretty damn good. He is still only 25 and isn't a free agent until after the 2021 season. He is someone the O's can build around.
2. Kansas City Royals (22-51) The Royals have the worst team ERA in the majors at 5.36. They also have scored more runs than only the Orioles and the Miami Marlins. They just traded Kelvin Herrera to the Nationals so the rebuild is going on in earnest. Luckily they drafted 5 starting pitchers with their first five picks in the draft and have a recent World Series to keep their fans patient for a while.
Bright Spot – While Whit Merrifield, at 29, may not be the ideal player to build around, he is probably their best player going forward. He burst on the scene last year and led the AL in SBs with 34. Fluke? Some people thought so but Merrifield has doubled his BB Rate while increasing his Hard Hit rate by 10%. He is also under team control through 2022.
3. Chicago White Sox (24-48) They are one of only five teams in the majors with a sub-.305 OBP. As expected they have scored fewer runs than 26 other teams. Surprisingly they lead MLB in SBs with 57.
Bright Spot – Reynaldo Lopez was expected to be the second guy the White Sox got from the Nationals in the deal for Adam Eaton. He has stepped up to a 3.35 ERA. While his K/BB ratio isn't ideal, he does keep the ball in the park (8 HRs in 83.1 IP). At only 24, he is under control through 2023.
4. Cincinnati Reds (27-45) Their lineup has been pretty good with the likes of Joey Votto, Eugenio Suarez, and Scooter Gennett. Their starting pitching has been atrocious. Tyler Mahle and Andrew Desclafani, whose only started 3 games, are the only two starting pitchers who have a sub-5.00 ERA.
Bright Spot – The bullpen has some pieces. Amir Garrett, Jared Hughes, and Raisel Iglesias have shown they can be solid. They have combined for a 2.06 ERA and a 106/32 K/BB ratio.
5. Miami Marlins (29-45) The Marlins are only third worst in the NL in ERA at 4.80 but they are behind the Rockies and Reds. The Marlins play in a pitcher's park and for them to be that bad is not comforting. Their pitchers also have the second highest walk rate in the NL at 3.86%.
Bright Spot – Brian Anderson has been a find. In only his first full season in the majors this year, he is slashing .294/.373/.423 while splitting his time between third base and right field. At 25 years old and five more years of team control, Anderson may prove to be a building block.
6. Texas Rangers (31-44) The Rangers problem resides in their pitching with the third worst ERA in the AL at 4.83. They also are third worst in K% at 7.37. They will be looking to move Cole Hamels soon and that will officially begin the rebuild.
Bright Spot – Nomar Mazara is a player that seems to fall under the radar. He is 23 and had 101 RBI last year. He has 14 HRs already and had 20 last year. He is getting better and should be a cornerstone in the Texas lineup for years to come.
7. San Diego Padres (34-41) The Padres have scored the third least amount of runs in the NL behind the Mets and the Marlins. They also have the highest K rate in the majors, striking out 25.8% of their plate appearances.
Bright Spot – The bullpen, which may be dismantled in a further effort to rebuild, has been excellent with their three main players: Brad Hand, Craig Stammen, and Kirby Yates. They have combined for a 1.87 ERA, 127/29 K/BB rate, and a 0.94 WHIP.
8. New York Mets (31-39) After starting the season 11-1, the Mets have gone 20-38 since. The hitting has disappeared and has squandered very good pitching. The Mets are only behind the Marlins for the least amount of runs scored in the NL while their team has a respectable 4.14 ERA and has struck out over a batter an inning.
Bright Spot – Brandon Nimmo is the easy pick here. The Mets didn't want to trade him for Josh Harrison in the offseason and it now looks like the right choice. He is slashing .287/.409/.596 and is one of only two NL players (Javier Baez) who has 5 triples, 10 HRs, and 5 SBs.
9. Toronto Blue Jays (33-39) This is a team that isn't really horrible in any one particular area. Their athleticism may be in question with the third least SBs in the AL and the third worst defensive fWAR at -15.9. It may be time to rebuild and get a bit younger.
Bright Spot – Teoscar Hernandez has been a solid contributor and looks like the future in the Jays outfield. He came over in the deal with the Houston Astros last year for Francisco Liriano. He has 12 HRs in 242 PA and has hit a respectable .268 in his first full season.
10. Minnesota Twins (32-37) After the Twins made it to the Wild Card game last season, the thought was they could possibly challenge for the division this year especially with upgrades to the staff in Lance Lynn and Jake Odorizzi. Well, that hasn't happened. While they may have talent, their pitching has been spotty and their defense isn't what it was last year as they currently hold a -8.2 fWAR on defense.
Bright Spot – Eddie Rosario gets forgotten in the conversation about the Twins young talent. Miguel Sano and Byron Buxton get talked about more but, along with Eduardo Escobar, Rosario is the main reason the Twins have stayed afloat. He has improved his OPS the past three years from .716 in 2016 to .836 last year and is currently at .925. He is only 26 and under control through 2021.
Questions and comments?
thescorecrowsports@gmail.com
Follow Us on Twitter @thescorecrow
Follow Us on Reddit at u/TheScorecrow
Follow John Lepore on Twitter @jball0202
Main Credit Image: Embed from Getty Images