John Lepore | June 9th, 2018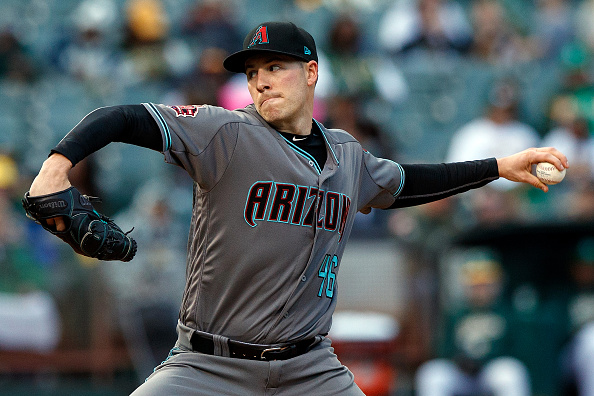 Sometimes in fantasy baseball, we get lucky. Of course, we always want to say that we knew about this guy or that guy and take credit by painting ourselves as draft gurus.
Many times, when we do get lucky, we look to possibly sell high on players we got late in the draft who have been doing well, thinking they won't sustain it. Here are five players who were taken late in drafts, are playing very well, and will be worth hanging on to for the rest of the season. For ADP purposes we are using Yahoo and they are in parentheses.
Patrick Corbin (217) – Corbin underwent Tommy John Surgery in March 2014. He missed all of that season and half of 2015. When he came backed he pitched well. Going into the 2016 season, fans and fantasy baseball participants were optimistic. Corbin disappointed with a 5.15 ERA and a 2/1 K/BB ratio. He improved last year but wasn't yet considered a fantasy asset. This year he has been great, pitching to a 6-2 record with a 2.87 ERA, 0.94 WHIP, and a 105/22 K/BB ratio. There are reasons to believe he will continue his performance. His GB rate is back to pre-surgery levels and his FIP is 3.05. Although his fastball has dipped a bit in velocity down to 90.7 mph, he is using it less. He has incorporated his curve more, using it 12% of the time, and basically abandoned his changeup. The difference between his fastball and curve is 17.5 mph. Corbin now has three quality offerings and is mixing them in perfectly.
Josh Hader (219) – Let's just say it. The man has been ridiculous this season. The decision of the Milwaukee Brewers to make him a relief pitcher has paid dividends. Hader has a 1.05 ERA with a 69/13 K/BB ratio and a 0.67 WHIP. Lefthanders, in 39 PA, have 2 hits (singles), 5 walks, and 22 strikeouts. Overall his K/9 is 18.09. Yes, you read that correctly. He is striking out more than 2 batters every inning. Hader's arm angle and arm speed are the same for his slider and fastball. The movement and the speed differential (12.4 mph) are what makes him virtually unhittable.
Eugenio Suarez (221) – The man has played in 47 games. He has 45 RBI. If that isn't enough, his slash line is .299/.379/.559 to go along with 11 HRs. His BABIP is consistent with his career numbers. The big difference is Suarez is hitting the ball harder. His Hard Hit rate according to Fangraphs is 49.3%. In case you were wondering, that's pretty good. He hit 21 HRs in 2016 and 26 last year. Suarez is still young, turning 27 next month. The Cincinnati Reds just signed him to a 7 year deal worth $66 mil with an option year for 2025. This is already looking like a steal for the Reds. He is entering his prime right now and he will only get better.
Nick Markakis (223) – Markakis has been a pretty good outfielder his whole career. He was never a power hitter having only gotten to the 20-HR plateau twice back with the Baltimore Orioles. He is a career .289 hitter and always had good plate discipline with a 0.71 BB/K ratio. This year the 34-year-old has put on a clinic. Slashing .327/.390/.494 with 8 HRs (he had 8 all of last season), Markakis is having a career year. He has walked more than he has struck out (28/27). His BABIP is a little higher than normal but not unsustainable at .338 considering he his hitting the ball hard 38.3% of the time. He is the one guy on this list that teams may be looking to get value for in a trade because of his age, but I say he is worth holding on to both because of the adjusted swing and the lineup he is in.
Eduardo Escobar (235) – When Escobar hit 21 HRs last year, many in the fantasy community thought it was a fluke. He has 12 HRs already in half the plate appearances. His BABIP is a bit higher than his career number, but at .338, is certainly sustainable and he should maintain his .290 AVG. He has hit the ball hard 40.2% of the time which is a huge improvement over his previous high of 31.4% last year. He has also improved his FB% over the past three years. Even his BB/K rate is consistent with his career number. Although Escobar is 29, he didn't start playing on a regular basis until 2014. He still has time to improve.
Questions and comments?
thescorecrowsports@gmail.com
Follow Us on Twitter @thescorecrow
Follow John Lepore on Twitter @jball0202
Follow Us on Reddit at u/TheScorecrow
Main Credit Image: Embed from Getty Images