John Lepore | June 5th, 2018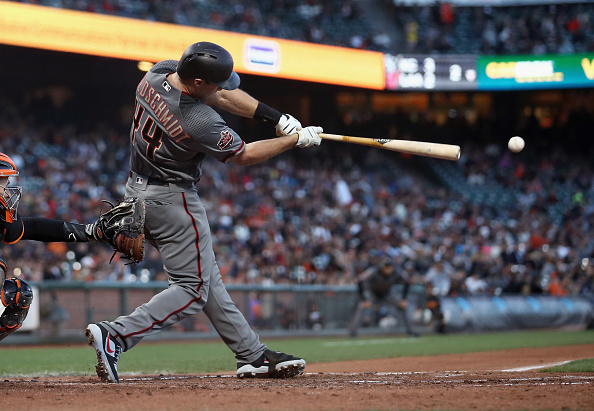 One of the toughest decisions in fantasy baseball is if you should pick up or trade for a veteran who is having a bad season. Is he going to bounce back to career norms? Is he done and finally showing a significant decline?
Paul Goldschmidt has been arguably the best first baseman in fantasy baseball for the past 5 years. He contributes to all categories regardless of your league setup. Although he played in only 109 games in 2014, he still managed to slash .300/.396/.542 with 19 HRs and 9 SBs to go along with 75 Runs and 69 RBI. In four of his last five seasons, he has played in over 155 games each of those years. This year, however, Goldy hasn't been… well… golden. He is currently slashing .210/.328/.395 with only 8 HRs in 247 PA and has only 2 SBs a third of the way through the season. Let me break down Goldschmidt's season and tell you why you should go get him immediately if possible.
Track Record
This season has not started off well for Paul Goldschmidt. Here are a few numbers for you to peruse as they compare to his previous track record.
Soft Contact – 20.6%: Never less than 15.0%
Swinging @ 42.1% of pitches: Highest rate since 2012
Contact Rate – 72.9%: Lowest since 2011
BB/K Ratio – 0.45: Lowest since 2011
BABIP – .281: Above .340 every year since 2012
HR/FB Rate – 15.4%: Never lower than 19.0%
As we know, veteran players as good as Goldschmidt generally don't have full seasons that are completely out of their norm. Yes, it happens from time to time, but I think we can be pretty confident that Goldy will bounce back.
2015 Robinson Cano
Let's use an example from a few years back, Robinson Cano. He was the premier second baseman in 2015 and it was his second year playing for the Seattle Mariners. He was one of the most consistent fantasy contributors over the previous 9 years. Well, his 2015 season started off horribly. Here are some numbers from that season up until June 30th.
PA – 314
HRs – 4
RBI – 24
BB/K – 16/55
AVG – .238
It wasn't looking pretty for Robby. For those of you that either held onto him or got him on the cheap from a disgruntled owner, good for you. Here is what Cano did the rest of that year starting on July 1st.
PA – 360
HRs – 17
RBI – 55
BB/K – 27/52
AVG – .330
Trust in Goldschmidt
Paul Goldschmidt has shown his ability over the past 5 years to be an elite fantasy player at first base. Maybe it's the humidor, maybe it's a nagging injury, maybe it's something else, but I wouldn't discount what Goldy has done the last 5 years because of two bad months. Over his last 10 games, he has hit .256 with 3 HRs and 7 RBI. Granted, that isn't classic Goldschmidt but it's an improvement.
Much of Goldschmidt's struggles can be attributed to a high swing and miss rate and bad luck. He may need to make an adjustment to barrel up the ball better and be a bit more selective. This is what great players do and I trust that Goldschmidt will make that adjustment and put up numbers the rest of the season worthy of where he was drafted. If you can get him cheap, do it. If you currently have him, keep him. Going forward he will be worth his weight in gold.
Questions and comments?
thescorecrowsports@gmail.com
Follow Us on Twitter @thescorecrow
Follow John Lepore on Twitter @jball0202
Main Credit Image: Embed from Getty Images