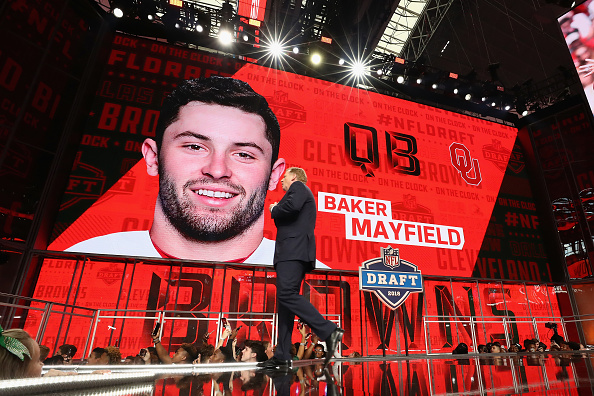 Welcome to the year of the quarterback. Which of the quarterbacks selected in the 2018 NFL draft will have the most fantasy relevance?
There were quite a few teams at the top of this draft needing to draft a quarterback, some that were looking to trade up for one, and some that got lucky one fell to them. We'll take a look at some that landed in the best position, some with the most talent, and how all of that translates to your fantasy season.
Josh Rosen
The unheralded most polished passer in this year's NFL draft class, yet he slipped all the way to the Cardinals at number ten. Love him or hate him, Josh Rosen was the most NFL ready quarterback in this draft and my NFL comparison for him was Philip Rivers. Rosen will have one of the weakest offensive lines in the NFL according to Pro Football Focus with a combined 2017 grade of 54.02 (A.Q. Shipley, Mike Iupati, Justin Pugh, D.J. Humphries, Andre Smith). Sam Bradford is the starting quarterback for the foreseeable future; at least for the next year or so unless he gets injured again as he often does. If Rosen does see the field this year, his polished technique as a passer will make him a viable option. He will still have the ageless Larry Fitzgerald and stud pass-catching running back David Johnson on the offense. If Josh Rosen takes over at quarterback, it could help a few emerging fantasy sleepers this year (Brice Butler, Christian Kirk, and Ricky Seals-Jones)
2018 Prediction: Debut – Week 4 – 3,237 Yards Passing; 20 Passing TDs; 2 Rushing TDs; 14 INTs
Baker Mayfield
In a dynasty league, I'm buying in on the Baker Mayfield hype. Sure Mayfield was drafted by the Browns, but I actually see that as a good thing this upcoming season. If there were ever a year for a quarterback drafted by the Browns to succeed, it would be this year. The Browns are a much-improved team with an offensive line that has a combined grade of 71.88 according to 2017's Pro Football Focus rankings (J.C. Tretter, Joel Bitonio, Kevin Zeitler, Shon Coleman, Chris Hubbard). Both of their guards last year graded out with an 81.0 or better, but the problem they face is the loss of their 10-time Pro Bowl left tackle Joe Thomas. However, Baker Mayfield will definitely be surrounded by some serious talent. The Browns added Jarvis Landry and Carlos Hyde in free agency to pair with Josh Gordon and Corey Coleman. They also drafted David Njoku last year, an athletic tight end out of Miami, and complemented that selection with Nick Chubb and Antonio Callaway in this year's draft. Sure he still has to beat out Tyrod Taylor for the starting job, but it's just a matter of time before Baker Mayfield is named the starter for an organization thirsting for a franchise quarterback.
2018 Prediction: Debut – Week 5 – 2,880 Yards Passing; 26 Passing TDs; 5 Rushing TDs; 12 INTs
Josh Allen
Josh Allen has some dynasty intrigue but is still largely an enigma at this point and a bit of a wildcard. My draft comparison for Josh Allen was Ben Roethlisberger and there were a lot of comparisons, some good, but mostly bad. Josh Allen's offensive line had a combined 2017 Pro Football Focus ranking of 60.32 (Russell Bodine, John Miller, Vladimir Ducasse, Jordan Mills, Dion Dawkins). On the offensive line, there are only two players that had a Pro Football Focus grade of 70.0 or better and that's not a good thing for a quarterback shrouded in questions about his accuracy. Mechanics do not suddenly get better under pressure. Unfortunately, Josh Allen isn't surrounded by much talent aside from an aging LeSean McCoy. His only other help comes in the form of Kelvin Benjamin, Zay Jones, and Jeremy Kerley. Sure Josh Allen still has to beat out A.J. McCarron for the starting job which might not be as easy as some may think and let's face it, Nathan Peterson and his five-interception performance against the Chargers in week eleven all but sealed his fate as a backup in this league at best.
2018 Prediction: Debut – Week 4 – 2,431 Yards Passing; 17 Passing TDs; 2 Rushing TDs; 15 INTs
Lamar Jackson
There is no doubt Lamar Jackson is a one-man highlight film. He was a dynamic player in college and I think his style of play will transition well to the NFL game. Lamar Jackson was selected 32nd overall by the Baltimore Ravens but make no mistakes about it, this is still Joe Flacco's team for the time being at least. The Ravens can cut Joe Flacco beginning with the 2019 season and save some money against the cap according to Over The Cap. Joe Flacco has been pretty durable for most of his career only missing six games in 2015. If Lamar Jackson does see the field in 2018, I think it will be because of injury but I think they would love to have him sit and learn for a year.
2018 Prediction: Debut – Week 13 – 950 Yards Passing; 7 Passing TDs; 3 Rushing TDs; 4 INTs
Sam Darnold
Probably my favorite quarterback in this draft from a pure football perspective and my NFL comparison was Eli Manning. My biggest issue with Sam Darnold isn't Sam Darnold, it's the team that drafted him…the New York Jets. I do not feel confident in the New York Jets' ability to groom a quarterback and I hope Sam Darnold doesn't regress instead of progress. It's hard to trust an organization that selected Christian Hackenberg in the second round, fifty-first overall that never saw the field and hasn't logged a professional snap. Aside from the Jets inability to groom a franchise quarterback, it's possible Sam Darnold will not see the field in 2018 with Josh McCown expected to start and Teddy Bridgewater as the backup who has looked impressive in OTAs. If Sam Darnold does get a start in 2018, my best guess would be that it's due to injury or a losing season.
2018 Prediction: Debut – Week 16 – 428 Yards Passing; 4 Passing TDs; 0 Rushing TDs; 2 INTs
Questions and comments?
thescorecrowsports@gmail.com
Follow Us on Twitter @thescorecrow
Follow The Maj on Twitter @themaj381
Main Credit Image: Embed from Getty Images